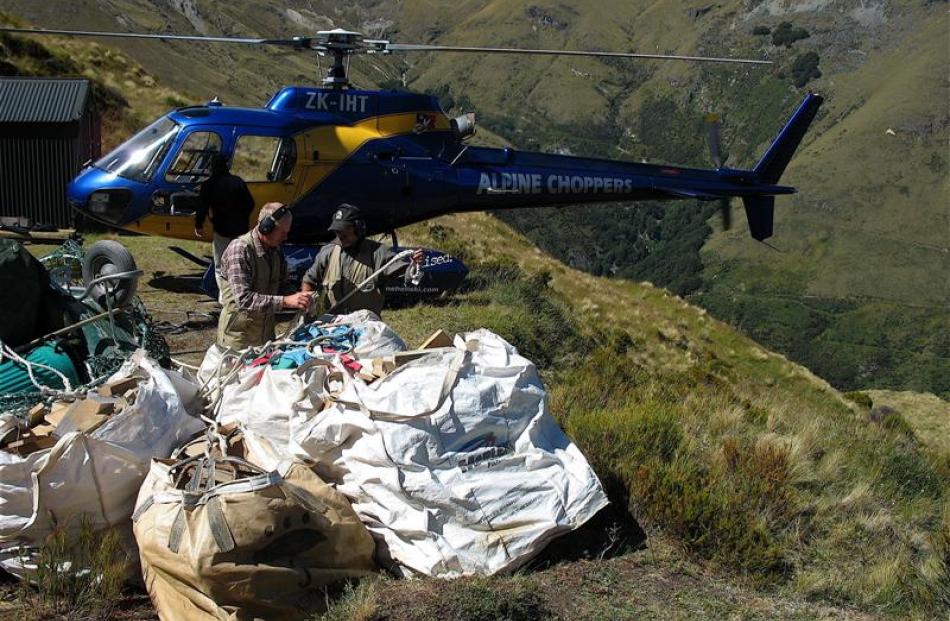 Department of Conservation ranger Stew Hardie has a slightly different brief to that of his fellow rangers - he is one of the custodians of the Wakatipu's priceless heritage from its gold and scheelite mining days.
Mr Hardie and long-time workmate Dave Murfin have just completed six months of restoration and maintenance of the Bonnie Jean hut, McIntyres hut and Wallers hut, on the rugged 9000ha Whakaari Conservation Area near Glenorchy.
They also restored faithfully the Skippers homestead, Macetown and Arrowtown Chinese Settlement over summer, working closely with heritage groups and the Historic Places Trust.
The popular Skippers homestead was given a much-needed lick of paint in original heritage colours. Mr Hardie, Mr Murfin and three volunteers from the Doc conservation holiday programme applied fresh coats to the roof, window frames and doors.
"It desperately needed painting to protect the timbers from rotting," Mr Hardie said. "The roof hadn't been painted since I did it in 1995."
Mr Murfin and Mr Hardie then turned their attention to the Chinese settlement. A hut fashioned by a Chinese miner between 1870 and 1890 was damaged when an adjacent structure caught fire three years ago, and the hut was scheduled for a comprehensive overhaul.
"We rebuilt that particular hut completely with recycled beech timber, calico for the roof and cladding. It's fairly rough. Chinese miners built their dwellings out of what Europeans threw away; or [they] made do with what was lying around."
The team installed picket fences around a recently discovered cemetery in Macetown last October. Information panels were planned for next year.
The Bonnie Jean hut is now fully restored, with historical artefacts displayed behind a locked grille.
Mr Hardie said Wallers Hut, on a lonely unmarked spur more than a day's tramp from the Queenstown-Glenorchy road, was restored and maintained for the first time.
The work involved flying out a digger for drainage excavation, stabilisation, waterproofing and a new chimney. The hut would be in good condition for the next 20 years, Mr Hardie said.
"Wallers to me was a real New Zealand experience because it's right on the edge of the beech forest and built out of the wood. The bunk was sacks stuffed with tussocks, and there were newspapers reporting World War 2, and a clay pipe in the fireplace, which we've let our archaeologists in Dunedin know about."
McIntyres hut, dating back to the 1960s, was braced, cut in half at the apex then moved by helicopter down to a sheltered area for conversion into a trampers' facility.
"We replaced the rotten wooden plate, then, back onsite up the hill, we built new foundations designed by Doc engineer Tim Cross," Mr Hardie said.
"When all that was in place, we flew the hut back up, and bolted it back together; then lined the hut with polystyrene and plywood."
McIntyres was transformed from a dirt floor shack accommodating a dead possum and a foul smell into a five-bunk trampers' hut with water tank and long drop.
Mr Hardie emigrated from England in 1970 and has worked for Doc in Queenstown over the past 20 years. He came to New Zealand as an apprentice joiner and naturally gravitated to working on the historic structures on land administered by Doc.
The two men will return for the next six-month work programme on October 10. Maintenance of Skippers, Macetown and pre-season repairs to the Chinese settlement are planned, along with rebuilding Heather Jock and McIntosh huts, excavating the rear wall, and weatherproofing Boozer hut.
"It's great satisfaction . . . It's the whole organising of the job, flying the gear, the challenges of remote areas. The feedback is great and we need to preserve as much as we can."