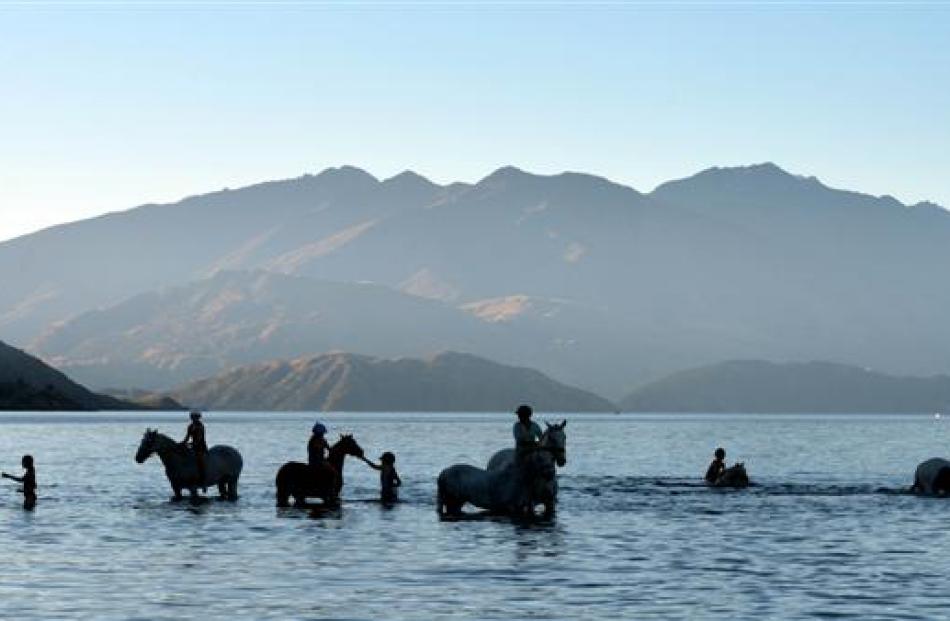 Regular runs from Alexandra to Clyde - much too fast-paced to be called taking the dog for a walk - paid off for the winner of the hugely popular Jack Russell race during the Upper Clutha A&P Show at the Wanaka Showgrounds on Saturday.
Clad in a neon-bright vest, 4-year-old terrier Kate, of Alexandra, put in an impressive performance to take the hotly contested title, beating about 65 other canine competitors to the finish line.
''She's a nutcase,'' Kate's owner Hannah Hutton (10) said of her energetic pet, after the race.
While Kate had not been on any special training regime leading up to the race, she often ran alongside Hannah's father, Mark, on bike rides out to Clyde.
''She's quite fit,'' Mr Hutton observed.
Kate has competed several times in the annual dog dash, which draws thousands of spectators to the sidelines of the Wanaka Showgrounds' main ring and is billed by organisers as ''the most prestigious event in the canine calendar''.
''She had no idea the first year, she was just kind of running around following the dogs,'' Hannah explained.
Kate's second attempt was more successful, after she grabbed hold of the hare which baits the dogs and got ''dragged along'', before she slipped off the prize around the bend into the home straight and finished third.
In second place on Saturday was Bo, raced by Ava Erickson (10), of Wanaka, on behalf of her grandparents. Ripley Platagenet Hutson Custard, owned by Simon Betney, of Wanaka, finished in third place.
Race marshall Richard Burdon said the race attracted a bigger field than last year, and had courted the usual controversy over whether some entrants were genuine Jack Russells or not.
''There's always a couple of impostors ... there was a couple of [other types of] terriers there but it's always good to see how they compete,'' Mr Burdon said.
A mass flash mob performed by hundreds of Upper Clutha primary and secondary schoolchildren immediately before the race had ''increased the chaos even more'', Mr Burdon said.
The show was held over two days on Friday and Saturday in sweltering temperatures, which reached 29degC on Friday and 26degC on Saturday, according to MetService data.
Show co-ordinator Jane Stalker believed crowds were slightly up on the 18,000 people estimated to have attended the previous two shows.
Despite a huge influx of people into Wanaka, the crowds were generally well-behaved, Sergeant Aaron Nicholson said.
Four drink-drivers were caught on Friday night, but there were no other serious incidents dealt with by police.
Mangapoike Ltd won the Beef and Lamb New Zealand ''Golden Lamb Award''.