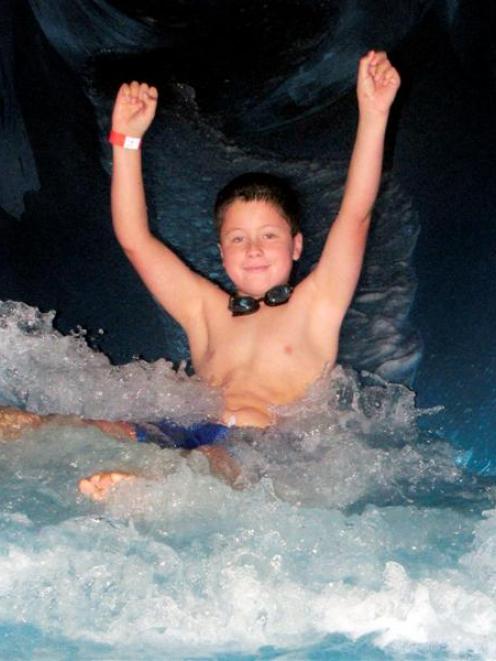 It has taken almost four years and has cost the Queenstown Lakes District Council more than $137,000, but Lakes Leisure's fast hydroslide at Alpine Aqualand has finally reopened - and the thrill-seekers are pleased.
Yesterday, Mark James, of Christchurch, was one of those taking advantage of the free rides on both hydroslides - a deal running for the school holiday period - and proclaimed after his first of six runs it was ''one of the best hydroslides I've ever been on''.
''That is wicked - I've been on lots [of hydroslides] all over New Zealand ... I think I've done just about every one in the South Island.''
In November, the Otago Daily Times revealed a dispute over the safety of the fast hydroslide had been resolved through confidential arbitration. The arbitration process had been ongoing since 2009 between the council, on behalf of Lakes Leisure Ltd, Naylor Love, the building company given the contract to construct the hydroslide, and Timaru manufacturer Aeromarine Industries Ltd, a subcontractor responsible for designing and building the two hydroslides.
The fast slide was closed briefly in December 2008 after 69 patrons reported minor injuries, the majority caused by users breaking safety rules. After intermittent closures, it stopped operating in June 2009 after a woman received concussion and a shoulder injury. The Department of Labour investigated the woman's complaint but decided in November 2009 not to prosecute.
Work on the hydroslide began in February and it officially reopened on Saturday.
Queenstown Lakes Mayor Vanessa van Uden said she was delighted it was back in action. She described it as a ''credit to all of the people that worked so hard to find a resolution''.
---
Timeline
May 31, 2008: The $18 million Alpine Aqualand complex, including slow and fast hydroslides opens at the Queenstown Events Centre.
December 10, 2008: The Otago Daily Times reveals 69 people have suffered injuries on the fast hydroslide since it opened.
May 17, 2009: A woman in her 20s receives head and shoulder injuries on the fast hydroslide. June 12, 2009: The Queenstown Lakes District Council closes the slide until ''an appropriate solution for safe public use could be implemented''.
November 20, 2009: Leisure Engineering concludes the fast hydroslide must remain closed until modifications are made to improve its safety.
April 20, 2013: The fast hydroslide reopens, almost four years after it first closed.
---