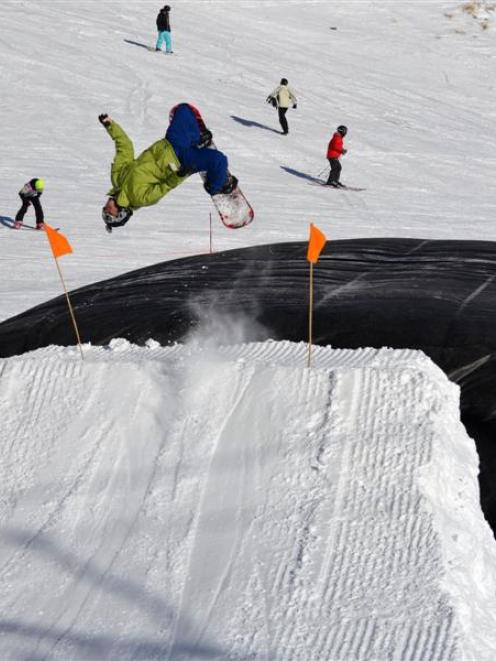 ACC is reminding winter sports lovers to keep safety in mind on the slopes this winter to avoid joining the 13,000 who claimed for injuries last winter.
Coronet Peak, on Sayurday, was the first skifield in Australia and New Zealand to open, and the Remarkables is scheduled to open next Saturday.
ACC Sport programme manager Kirsten Malpas said skiing and snowboarding were ''fantastic ways'' to keep active and enjoy the outdoors, but were physically demanding activities, often involving challenging terrain, so following safety guidelines was ''a must''.
Last year ACC paid out $18.5 million for injuries resulting from skiing or boarding, with injuries ranging from bruising, sprains and strains to fractures, dislocations and head injuries.
Claim statistics showed about 8000 claims related to skiers - 80% of those for bruises, sprains and strains.
About 10% of claims from skiers were for fractures or dislocations, and about 3% each were from skiers who suffered lacerations/puncture wounds or concussion.
A further 5000 claims were related to snowboarders - 70% for soft tissue injuries, but 20% for fractures and dislocations.
About 5% were attributed to concussion, with another 3% for lacerations/puncture wounds.
ACC said about 70% of snow sports injuries were caused by loss of control, resulting in falls or collisions.
---
Be safe on the slopes
ACC tips for reducing risk
• Build up your fitness before the season starts.
• Warm up before you start skiing or boarding.
• Take lessons from a qualified instructor.
• Make sure you're familiar with and follow the Snow Responsibility Code, endorsed by the New Zealand Snow Sports Council.
---
Snow Responsibility Code
• Stay in control at all times: Know your ability, start easy, be able to stop and avoid other people.
• People below you have the right of way: The skier or boarder downhill from you has the right of way, but also look above before entering a trail.
• Obey all ski area signs: They are there for your safety; keep out of closed areas.
• Look before you leap: Check jumps first, ensure the area is clear, use a spotter on blind jumps.
• Stop where you can be seen: When stopping, try to move to the side of the trail and where you can be seen from above.
• Don't lose what you use: Equipment must be secured while walking or stashing.
• Stay on scene: If you are involved in, or witness, an accident, remain at the scene and identify yourself to Ski Patrol.
• Respect gets respect: From the lift line to the slopes and through the park.
---