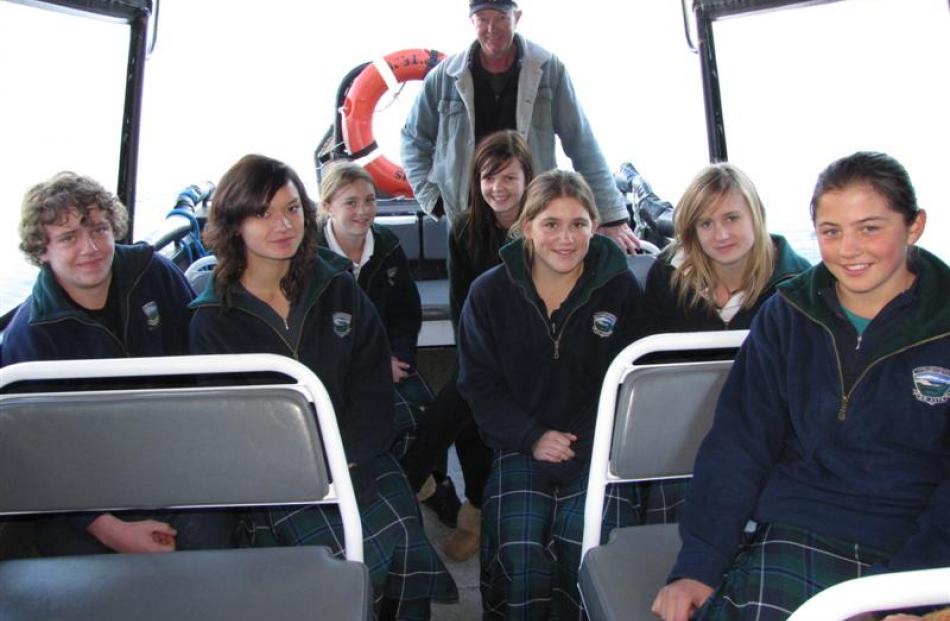 Glenorchy accommodation-providers and food outlets had a captive audience yesterday after a 200-tonne rockslide closed the only road into the township, but some tourist operators fear they will lose at least one day's income.
Sue Scott, from the information centre at the Glenorchy Hotel, said the small shops in the township were very quiet, due to the shoulder season, but the cafes were "buzzing".
"Quite a lot of people got stuck in Glenorchy, whether they were visiting or could not get to Queenstown for work. We had guests at the hotel who had checked out in the morning but came back shortly afterwards to book another night after they had discovered the blockage."
Ms Scott said several hunters were also stuck in Glenorchy on their way back from hunting trips, and while a Queenstown Water Taxi service was available to bypass the slip, many people chose to remain in the township until they could get their vehicles through to Queenstown.
High Country Horses head guide Naomi Taylor said they missed out on business yesterday, even though it was their quiet season.
"We had nine people booked for rides this afternoon. None of them were able to get through to Glenorchy, and since they were all due to leave Queenstown over the weekend, none of them were able to book for an alternative day. So we lost all our income for the day."
Info & Track also had a quiet day yesterday, owner Chris Smith said.
"Only two people were booked on our tours yesterday. They were both able to change to a Sunday tour instead. But only the day before we had 30 customers."
The regular scheduled transport service to the Routeburn Track ended on May 1, but the company was still running chartered drop-offs and pick-ups. Mr Smith said no people were booked to be picked up from the track yesterday or today.
Guided Nature Walks director Peter Hitchman said the road closure had "definitely affected us ... as we can't take our clients into the Mt Aspiring National Park."
Mr Hitchman said he would contact his 10 clients, who were staying in Queenstown hotels and were booked over Friday, the weekend and possibly Monday. They would be taken to the Rob Roy Glacier, near Wanaka, instead.
"It's a big slip - an awful lot of rock. Fortunately, there's no clients on the other side and fortunately it happened in the shoulder season. In the peak season, 60 to 80 clients would have been affected."
Glenorchy resident and radio announcer Chas Drader had to get a water taxi to Queenstown yesterday to attend his farewell party on his retirement from Media Works.
"We are going to Doubtful Sound for a fishing trip, so I couldn't miss that, my own farewell party. I got a water taxi just north of Rats Point to Wilsons Bay and I had a car waiting for me there to bring me to Queenstown," he said.
Glenorchy Motors Ltd owner Dave Smith said the weekly fuel delivery could not get through yesterday and the village was "pretty quiet".
"The fuel tanker comes every Friday from Dunedin but we rang him and told him not to bother. We have enough fuel, so it's business as usual," he said.
Ngai Tahu Tourism regional general manager David Kennedy said it was "pretty much business as usual" for Dart River Jet Safaris, with one of the company's jet-boats ferrying clients around the blocked road.
"While we will have a small cost for using the jet-boat, we will not cancel any trips, so the effect on us is minimal."
• The Queenstown Lakes District Council has arranged for Queenstown Water Taxis to provide a free public service between Queenstown and Glenorchy until the road is re-opened.
A shuttle bus departs from behind The Station building, on Duke St, Queenstown, at 8.30am, 9.30am, 3.30pm, 4.30pm and 5.30pm.
A water taxi picks up the bus passengers at Wilson Bay, and arrives at Rats Point, after a 20-minute voyage on Lake Wakatipu. From there, passengers walk up a 50m grass and gravel track to catch a Glenorchy-bound bus.
For people wanting to get to Queenstown, a bus departs Glenorchy at 9am, 10am, 4pm, 5pm and 6pm and drops passengers at Rats Point after a 30-minute drive. The water taxi takes passengers to Wilson Bay, to be picked up by a Queenstown-bound bus.