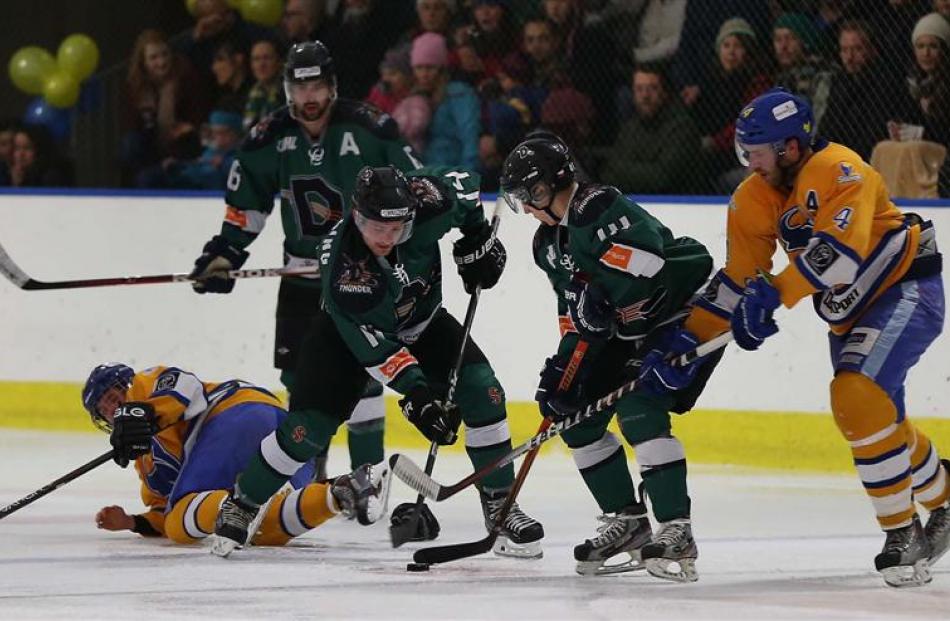 The Southern Stampede delivered an electrifying first home game of the season in a nail-biting 4-3 overtime victory over the Dunedin Thunder at the Queenstown Ice Rink on Saturday night.
However, the Thunder hit back in the second match of the double header to clinch a 5-3 win on Sunday.
On Saturday, the visitors took an early lead as a fired-up Stampede attempted to calm nerves and find its rhythm.
This served as a wake-up call and the Stampede managed to return with two quick goals to carry a 2-1 lead into the second period.
Smart tactics from the Stampede and a big powerplay goal saw the lead extended further going into the final third.
However, just as it looked like the Stampede was about to run away with the match, the Thunder rallied and came out firing.
Momentum began to shift towards the visitors and despite some exceptional defence from the home side, two goals were rattled into the net to tie up the game.
As extra time began, the Stampede was determined not to disappoint the home fans.
Captain Bert Haines recovered a loose puck in the defensive zone before making a decisive run to unleash a blistering slapshot which surged past the goalie into the net.
The capacity crowd erupted into a celebration that rattled around the rink.
Haines said that it was always good playing in front of a home crowd.
''It's great how loud they are. It always provides an extra jump in your step,'' he said.
Fortunately for the visitors, the second game on Sunday allowed a chance for redemption.
This time a wounded Thunder came out with a vengeance.
A tight match played out and the score was all locked up, 2-2, going into the final time period.
However, the Thunder managed to find another gear edging in three goals, bouncing back to take the match, 5-3.
Haines said the team had been expecting a tough weekend.
''We were expecting exactly what we got, a really close game against a team that finished second in the league last year,'' he said.
With the Botany Swarm set for this weekend, the team is going back to work on the finer things.
''Botany are going to be hungry coming into the game ... there is a bit of rivalry still left over [from last year], so it should be a fantastic game.''
- Alistair Lynn