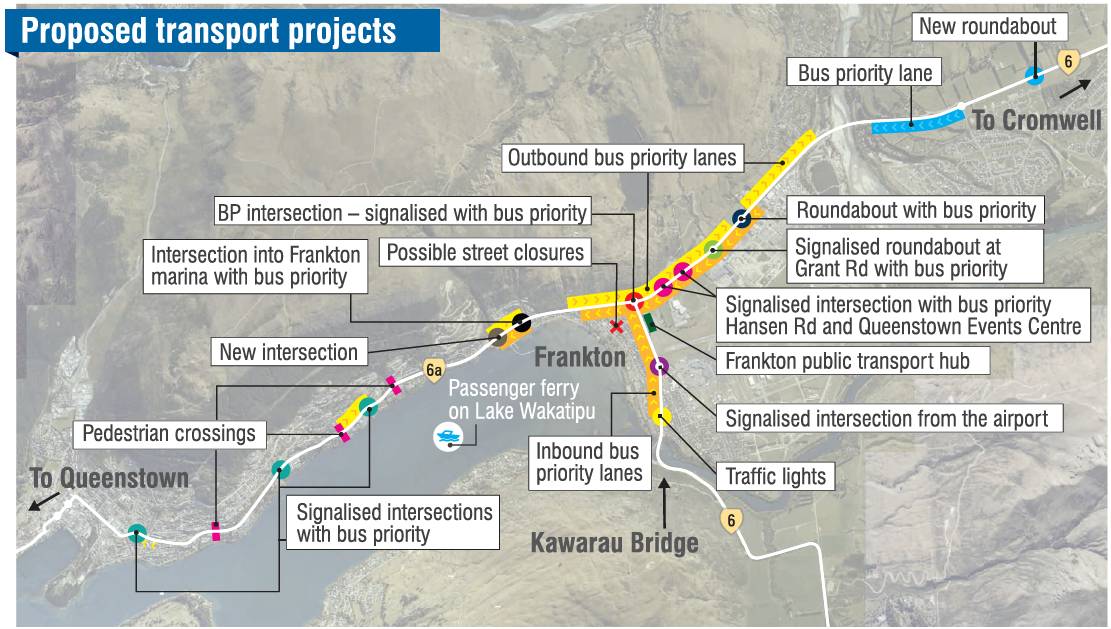 More roundabouts, more traffic lights, new bus priority lanes, additional footpaths and road closures could be on the cards for Queenstown.
Residents are being asked to provide feedback on a range of proposed transport projects by the "Way to Go" group.
The Queenstown Lakes District Council, NZ Transport Agency and Otago Regional Council have released details of the projects, which stretch from Ladies Mile to the Queenstown CBD.
Along with a new roundabout at the intersection of Howards Dr and State Highway 6 and bus priority lanes, signalised roundabouts at Hawthorne Dr, Grant Rd, on the Frankton Flats and at the 'BP intersection' to give buses priority are also proposed.
Traffic lights into Frankton marina, out of Sugar Lane and at Goldfield Heights, Hensman Rd and Melbourne-Dublin Sts, also giving buses priority, are contemplated, as are more "signalised intersections" at the Queenstown Airport roundabout, on State Highway 6, and at Humphrey St.
A new link from Humphrey St to Lucas Pl is also proposed.
In Frankton there are "potential street closures to prevent rat running" around the McBride St and Yewlett Cres areas.
A media spokesman was unable to confirm what this meant or if it was related to potential pedestrianisation.
"On demand" pedestrian crossings are contemplated along Frankton Rd at Battery Hill, Larch Hill Pl and Morries Rd.
The plan also includes widened footpaths, better connections for walking and cycling, improved public transport facilities, streetscape upgrades and "more techniques" to manage parking in Queenstown.
Queenstown council property and infrastructure general manager Peter Hansby, who is also the Way to Go board chairman, said it had been developed in consultation with the community.
There was a heavy emphasis on a transport system that encouraged people to use public or active transport, instead of private vehicles.
NZTA regional relationships director Jim Harland said the Government had already allocated $90 million to fund some of the programme.
Feedback closes on August 31.