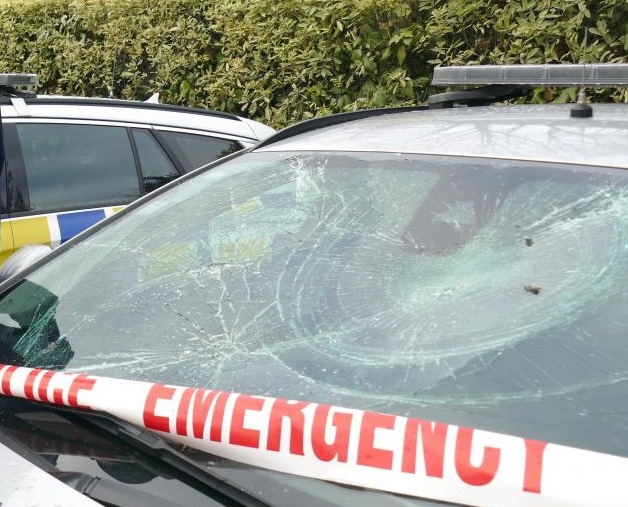 A young Oamaru man who damaged the windscreens of eight vehicles parked at the Queenstown police station will be granted a discharge without conviction once he fully pays reparation.

Liam Christopher McGregor (18), a building apprentice, appeared for sentencing before Judge John Brandts-Giesen in the Queenstown District Court yesterday.
He admitted nine charges in relation to his offending on July 18 this year, in which he caused intentional damage to the windscreens of two private vehicles and six police vehicles, and resisted arrest.
The court was told McGregor was sitting outside a convenience store in Camp St about 3am when he yelled obscenities and made rude gestures to two officers in a passing patrol car. 
When they stopped and approached the defendant to ask if he was all right, he abused them and spat in one officer's face.
When the officers were called to an incident nearby, he followed them and continued to hurl abuse.
He then went to the police station's car park and cracked the windscreen of one vehicle, then set up his phone to video himself as he damaged a second vehicle.
He went on to stomp on the windscreens of six patrol cars before he was caught.
Defence counsel Megan McCrostie said McGregor's offending was spontaneous and caused by drinking heavily while on medication.
A social media post he made after his first court appearance was ''regrettable and foolish'', Ms McCrostie said.
''I submit this merely highlights his lack of maturity, his age and the mental health issues he was dealing with at the time.''
However, he had no previous convictions, had made efforts to rehabilitate himself, and had paid $5500 out of the $10,079.45 he owed in reparation.
Convictions would be detrimental to his mental health, future employability and ability to travel overseas.
Prosecuting Sergeant Ian Collin said Otago Lakes-Central area commander Inspector Paula Enoka had personally reviewed the case and determined police would take a neutral stance to the discharge application.
This was an unusual step that recognised the defendant had ''knuckled down'' and made some progress towards addressing his issues.
Sgt Collin requested the decision on granting the discharge be conditional upon the defendant paying the full amount of reparation.
Judge Brandts-Giesen said the police's stance was ''remarkably generous''.
He told McGregor he had caused an enormous amount of damage and ''behaved disgracefully'' towards the constable he abused.
''This shows all the signs of complete thoughtlessness and stupidity. It beggars belief that anyone can behave in this way.''
However, he could not ignore the fact the defendant had worked hard to pay reparation.
He would grant a discharge once the defendant had paid all the reparation owing, as well as a $1000 emotional harm payment to the constable.