New Zealand is a favourite holiday destination for the rich and famous – and the proof can be found in the number of luxury lodges dotted around the country's most stunning scenic spots.
Of course, extreme luxury also attracts an extreme price tag – but what would you expect for a secluded hideaway with space to land a helicopter?
While most of us could never afford to stay at one, we've put together a list of our most expensive luxury lodges to file away in case you win Lotto.
Blanket Bay - The Villa: up to $16,800 per night
Completed in December 2017, the Villa is an impressive fully-serviced addition to Blanket Bay's accommodation options in Glenorchy, Otago. Sitting at the north end of Lake Wakatipu, it's the perfect location to find some peace and quiet – if you've got a bit of spare cash burning a hole in your pocket.
Containing four king suites, each with individual fireplaces, you'll enjoy magnificent lake and mountain views from the twin hot tubs on the terrace. In the high season, a night at the Villa will set you back $16,800 – but that includes a personal helper.
Sir Ian McKellen once described Blanket Bay as "a paradise on Earth" – and who could possibly argue with Gandalf?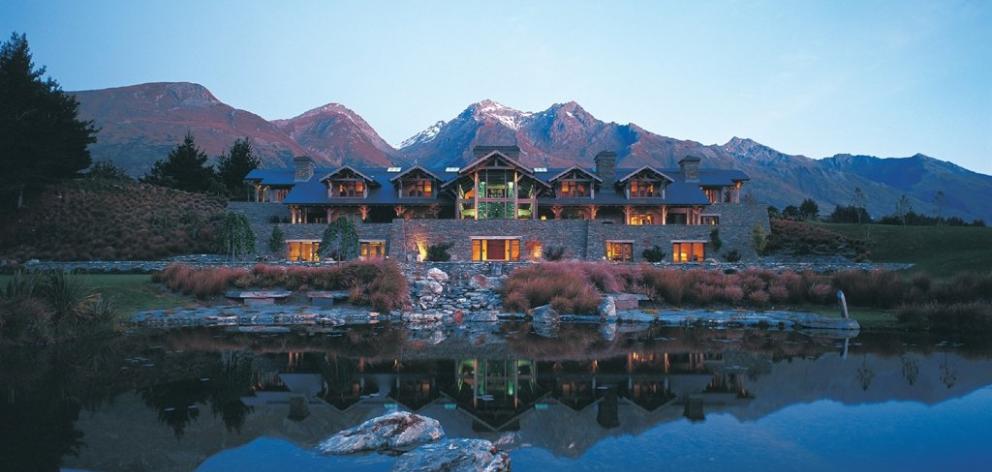 Matakauri Lodge - Owner's Cottage: up to $14,500 per night
With stunning views of the big three – the Remarkables and Cecil and Walker Peaks – Matakauri Lodge's Owner's Cottage is an intimate hideaway for up to eight guests. Despite its secluded feel, the Lodge is only seven minutes away from Queenstown. The sister lodge to Kauri Cliffs and The Farm at Cape Kidnappers, Matakauri has been named by Tatler Magazine as one of the world's 101 Best Hotels – as you'd hope, with the price tag attached.
Following a day of adventure in Queenstown, we can't think of a better way to relax than settling in to the private Jacuzzi that overlooks Lake Wakatipu – preferably while a private chef cooks up a feed in the impressive kitchen.
Huka Lodge - Owner's Cottage: up to $16,000 per night for whole thing
The Owner's Cottage is the crown jewel of the prestigious Huka Lodge, a luxury Taupo retreat that's welcomed royalty, Hollywood stars musicians, heads of state and other discerning clientele among its guests. It was also recently named the number 1 resort hotel in Australia & New Zealand in Travel + Leisure's World Best 2018 awards and No.25 in the Top 100 Hotels in the World.
Virtually hidden from the outside world, the Owner's Cottage contains four en suite bedrooms, a spacious living and dining area and overlooks the Waikato River with views downstream to the Huka Falls.
Decorated with art work from some of New Zealand's foremost artists, the retreat is furnished with unique pieces, super-king beds and bedroom fireplaces. Its large outdoor deck features a cantilevered infinity pool and heated spa. The entire cottage will set you back $16,000 per night for up to eight guests.
The Farm at Cape Kidnappers - Owner's Cottage: up to $13,900 per night
Hot on the tails of its sister lodge Matakauri, the Farm at Cape Kidnappers has an Owner's Cottage that will set you back a hefty $13,900 a night in the high season. Perched on rolling Hawke's Bay farmland that gives way to rugged cliffs, the location will take your breath away – but so will the lodge. The cottage can be reserved as a two or four bedroom house, and features cooking facilities for a private chef, two sitting rooms with fireplaces, a stone terrace and outdoor Jacuzzi.
And if you're looking for something to do while you're there, Cape Kidnappers also boasts the world's 16th best golf course.
Wharekauhau Country Estate - Owner's Cottage: up to $10,770 per night
This expansive country estate in the Wairarapa is a ruggedly beautiful spot, surrounded by mountains and ancient forest, with a black sand beach at the bottom of a dramatic ridgeline of cliffs. Wharekauhau hit the headlines when William, Kate and George stayed during their royal visit to New Zealand, as did the Dutch king and queen in 2016.
A short stroll from the main lodge is the Owner's Cottage – a private hideaway where all the three guest rooms include stunning views over Palliser Bay. The patio expends out into a heated infitiny pool and a Swedish cedar hot tub – the perfect way to enjoy the view, or a bit of summer stargazing. For added privacy, you can even land a helicopter directly at the cottage.