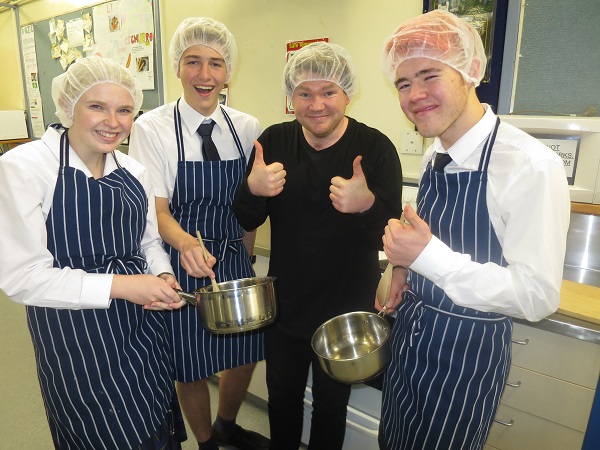 Wakatipu High pupils  are about to cook up a storm with a "Cook for a Cause" fundraiser to help both needy New Zealand families and Syrian refugees.
Nineteen pupils  aim to cook up to 6000 meals over World Vision's 40-hour famine weekend,  June 9 to 11, using donated ingredients. (Previously, pupils have spent two days and nights sleeping in a cage in Queenstown's Mall.)
The meals  will  be distributed to City Missions in Auckland, Wellington and Christchurch,  and  Queenstown's  Happiness House.
The pupils are  asking members of the public to "sponsor" the meals.  Money raised  will go to World Vision's campaign to provide learning environments for Syrian refugees resettled in Jordan.
World Vision schools partnership manager Harley Hamilton, of Christchurch, said he was "grateful, inspired and impressed" with everyone involved.
"I've worked with schools for three years and I've never seen anything like this.
"It quite often gets talked about that we've got problems in New Zealand, so do we need to help out overseas?
"They've just shown that you can do both."
Project leaders Beatrice Onions, Zed Moore and Hugh Taylor have been blown away by the support they have  had.
Beatrice said, "The funniest thing I've learnt is if you ask people, they want to help — it's just that there's this stigma, let's not ask because the answer will be 'no'."
New Zealand chef Mark Gregory, who founded the DineAid charity,  will  oversee the cooking.
He also provided the meal options —  shepherd's pie, Thai chicken and spiced apple cake.
Silver Fern Farms has given 400kg of beef, apples have been donated locally, and Bidfood Queenstown is supplying other ingredients.
NZSki will provide its industrial kitchen at Coronet Peak skifield and some staff over the weekend.
Packaging Plus will supply containers and packaging and Big Chill will deliver the meals around the country.
The pupils  have also been mentored by teacher Penny Hearn.
Hugh added: "We've put in an insanely large amount of hours into this."
The pupils' Facebook page, linked to the Wakatipu High School World Vision Cook for a Cause fundraising page, goes live today.
- Philip Chandler