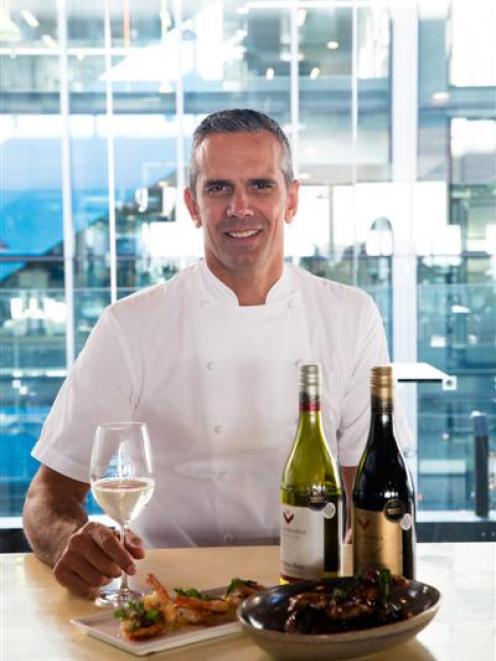 A conversation over a beer about 18 months ago has led to Michelin-star chef Josh Emett's latest business venture, believed to be a world first.
Mr Emett, a Masterchef New Zealand judge and owner of Queenstown restaurants Rata and Madam Woo, launched Master Match earlier this year, aiming to take the guesswork and pressure out of impressing dinner guests.
Mr Emett and his business partner Richard Knight, of Auckland, wanted to help people match food and wine or beer by creating recipes to perfectly match selected New Zealand wines. Supermarket shoppers who come across one of these wines with a Master Match sticker can scan the QR code on a smartphone to get to his website, find the wine and recipe, then pick up the ingredients needed while in the supermarket.
The recipes are relatively simple, meat or fish, and so far 16 wines and recipes are listed.
''It's something that's, oddly, not been done,'' Mr Emett said.
''Every person I know wants to match food and wine when they go out to a restaurant - what am I drinking and what am I eating?''It's about bringing that together.
''We think it's a world first.''
At present, 12 wineries were on board, including Central Otago's Akarua. The pair aimed to have 1 million by year end.
''From a retail point of view, it's great. It encourages responsible drinking and also it helps link food and wine.''
Mr Emett said Master Match had also joined forces with Hallertau beer, not only matching beer with dishes, but using beer to create dishes.
''It's more about having fun with beer - how to cook the perfect steak, barbecue ideas ... batters.
''It's a bit more of an overall picture with beer.''
Users could also interact with Mr Emett via social media, asking him questions if they got stuck, which he would try to reply to immediately, or they could share images of their finished products with him.
Each recipe also came with a ''Master Tip'' providing advice Mr Emett said many of the wines were exported overseas so international users could receive full benefits of the website.
However, if certain products were not available, home cooks could adapt recipes with what was available.
''It's much like looking at a cookbook.
''I sit down here and buy a Jamie Oliver cookbook ... recipes using hake or halibut, that's not something that's readily available, I have to [replace] it with something we have.
''The whole point is it takes a bit of the pressure off ... throwing a dinner party and worrying ''What am I going to cook, what am I going to drink?''.
Website: www.mastermatch.co.nz
---
Roast lamb rump with harissa
Roast lamb rump with harissa, tomato and coriander, matched with Akarua Rua pinot noir 2013.
Ingredients:
2 lamb rumps
Canola oil
1 Tbsp butter
2 garlic cloves, diced
1 onion, diced
½ tsp coriander seed, ground
½ cup harissa paste
½ red pepper, diced
2 tomatoes, diced
¼ cup water
Sea salt
Fresh coriander
Fresh parsley
Method:
Sweat the onion, garlic and coriander seeds in butter. When the onions are soft, add in the harissa and capsicum, sweat until tender. Add in the tomatoes and water, cook until a thick consistency. Blitz with stick blender to a nice even consistency and season to taste. Preheat the oven to 180degC.
Score the fat of the lamb rump, season and place fat side down into a hot cast iron pan with a little oil.
Render down the fat over a medium heat. When golden and crispy, turn over and place into oven, cook for 8-10 minutes until desired degree of cooking, take out and let rest at ambient temperature for 10 minutes. Plate the sauce first then add the sliced lamb rump on top. Garnish with fresh coriander.
Master Tip: ''I find the rump is best served medium. You could use rack or chops as well here, though cooked on the barbecue. Harissa paste is fairly easy to find, and if you want more heat, use chilli flakes or fresh chillies.''
---