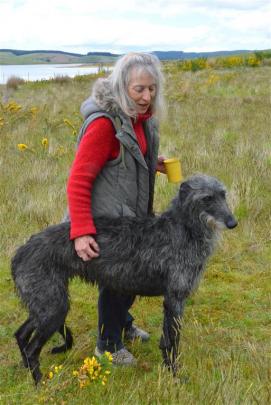 A lucky stroke victim has a catchy campaign to thank for her fast treatment.
Annette Joel (69) was working at her laptop on June 11 when she noticed the fingers on her left hand had stopped working.
The symptoms spread to her hand, then her arm, then her leg.
Ms Joel "wondered if it could be a stroke'' as these were symptoms she recognised from the Stroke Foundation of New Zealand's Fast campaign which was launched just six days before.
Ms Joel had seen the campaign many times on television and on a poster at the medical centre in Lawrence and said she thought to herself: "I don't need to worry about this''.
She is extremely grateful, now, that she had seen it so many times.
Identifying her symptoms as common of a stroke, she called emergency services on 111, triggering a helicopter flight to her remote house at Lake Mahinerangi.
"[The medics] were amazing; they just whisked me away. It was really quite spectacular.''
After spending four days in Dunedin Hospital, Ms Joel was able to return home.
"I think I have recovered really amazingly well, and I definitely put that down to the really fast treatment.''
The quicker a stroke is identified and "the quicker you can get to hospital, the better the outcome,'' said the Stroke Foundation of New Zealand's acting chief executive, Don Scandrett.
Getting treatment promptly will often reduce the effects of a stroke and can even be life-saving.
'Fast' is an acronym for the three most common symptoms of a stroke and what to do if you exhibit these.
Its aim was to get more people to recognise the signs and therefore get treatment faster.
The 'F' stands for face drooping, the 'A' for arm weakness, the 'S' for speech difficulty and the 'T' for time to call 111.
The catchy acronym gives "such a simple message'' that was easy to remember, Mr Scandrett said.
"It's something people can readily identify with.''
A home support worker from the Stroke Foundation of New Zealand has been helping Ms Joel, and she was amazed that they came to her house "in the middle of nowhere'' from Dunedin.
"They have been absolutely amazing. I have felt extremely advised and supported.
"You feel quite normal when you speak to the support people who come. You don't feel quite alone as you could.''
Approximately 9000 people per year suffer a stroke in New Zealand, which equates to one stroke an hour every day.
Mr Scandrett is very happy that more New Zealanders were now able to recognise signs of a stroke.
"It has been neat to hear stories. We are seeing people like Annette get to hospital and get to treatment in time. [These] great outcomes are just awesome.''
The Fast campaign will run for another couple of months.
- Eilish Maddock