Maritime rescue co-ordination centre, police and Coastguard were all involved in a search mission at Lake Wanaka for a helicopter overdue in its landing this afternoon.
The search started shortly before 1.30pm when the rescue centre was alerted to a Robinson helicopter carrying one person which had disappeared from its tracking system.
Mark Dittmer of Maritime New Zealand said they decided to suspend the search shortly after 6pm.
Three helicopters from the same company retraced the flight path of the missing chopper and spotted a wreckage on the shoreline of nearby Stevenson Island.
RCCNZ senior search and rescue officer Chris Henshaw said it has been confirmed the wreckage was that of a Robinson helicopter.
An oil slick could also be seen in the water 1km north of the island.
Searchers would scour the area on Lake Wanaka where the oil slick was seen.
"Another team will land on Stevenson Island where wreckage was seen to establish if further information can be gleaned."
Henshaw said there was one person aboard the helicopter when it went missing.
Conditions at the time were described as cloudy, but now the lake was calm and there was little wind, he said.
Six helicopters have been involved in the search, including the three choppers from the company of the missing craft.
The Rescue Co-ordination Centre NZ was overseeing the search.
A police spokeswoman said it received reports of a downed helicopter, but Maritime New Zealand's Rescue Co-ordination Centre was leading the operation.
The Transport Accident Investigation Commission (TAIC) has opened an inquiry into the suspected crash.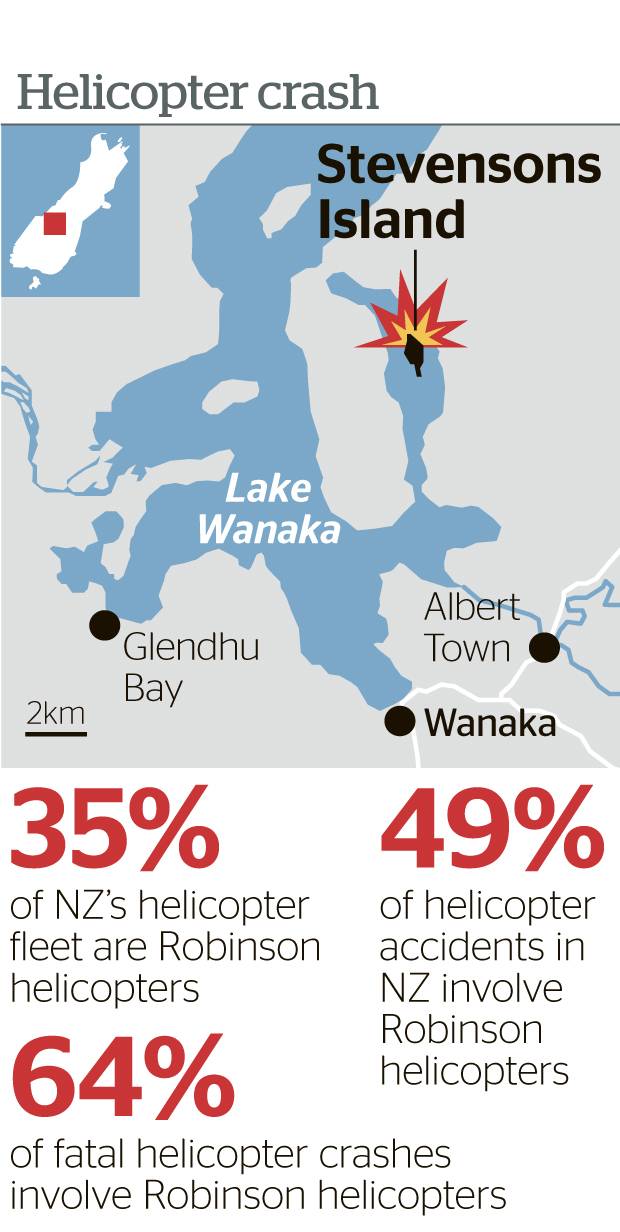 The chief investigator of accidents, Captain Tim Burfoot, said the commission appointed a team of two investigators, who are due to arrive at the accident site tomorrow.
The commission opens an inquiry when it believes the circumstances of an accident or incident have - or are likely to have - significant implications for transport safety, or when the inquiry may allow the commission to make findings or recommendations to improve transport safety.
TAIC put Robinson helicopters on its watch list - the highest alert it can give - in 2016.
Citing 14 mast-bumping accidents costing 18 lives since 1991, the commission called for renewed testing of Robinson helicopters, among other recommendations aimed at promoting safe handling of the machines.
The Department of Conservation suspended use of Robinson helicopters in November 2016 because of safety concerns and has now made the move permanent following external and internal reports.
The estimated additional annual cost of using helicopters other than Robinsons is $350,000.
Robinson helicopters make up 35 per cent of the New Zealand fleet but 49 per cent of accidents, 64 per cent of fatal crashes and all seven fatal mast-bump accidents.