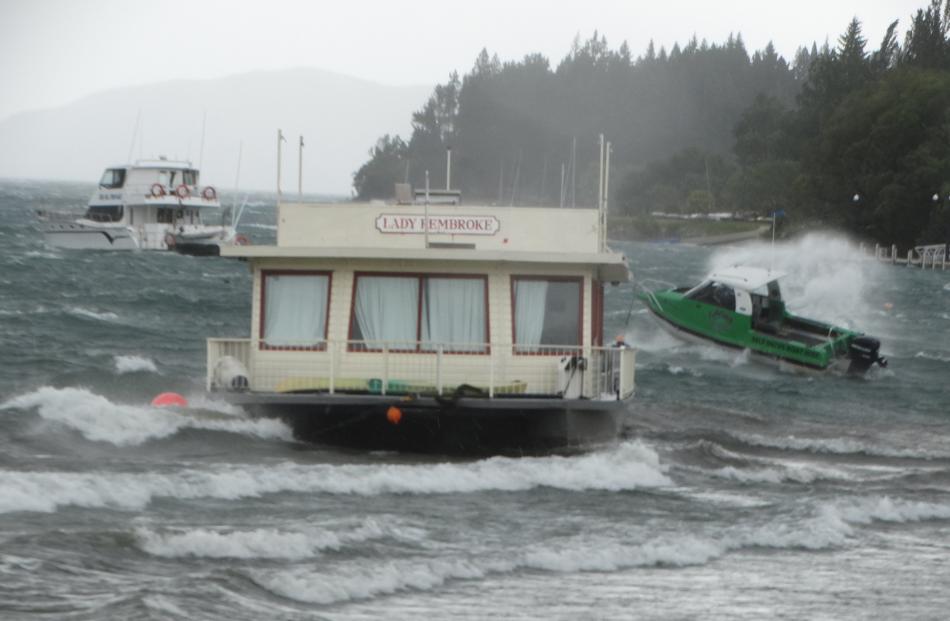 Wild weather wreaked havoc across Otago and Southland yesterday afternoon, bringing down trees and powerlines.
In Wanaka, high wind brought down power lines to Cardrona and drove the catamaran Lady Pembroke ashore from her mooring.
It also provided entertainment for a group of four young people using the swimming pontoon in Roys Bay.
The northwesterly wind built up during the day and reached its peak about 3pm.
Adding to the drama, Fire and Emergency New Zealand was called to douse a small fire in the shrubbery at the Wanaka war memorial.
Trees also fell and blocked many roads in Central Otago.
The Queenstown Lakes District Council posted on its Facebook page that Hogans Gully Rd was closed due to a tree falling and blocking the road.
Multiple trees fell down in Ramshaw Lane, in Arrowtown, which was opened after they were removed at 4.35pm.
Fallen trees caused road closures in Cardrona Valley Rd from Orchard Rd to Riverbank Rd.
In Southland, a falling tree brought down power lines which temporarily blocked a road in Invercargill.
Emergency services, including police and Fire and Emergency New Zealand, were called to Mason Rd, near Rockdale Rd, in Seaward Bush about 2.45pm.
A police spokeswoman said one lane was blocked for a time while the team assessed the area.
No injuries were reported and emergency services had left the scene by 4.15pm.
MetService data registered wind speeds of 48kmh at the time the tree fell and a strong wind warning for Invercargill had been issued for between 9am and 5pm.