If you are going outside, bring a coat, because the end of the weekend looks grim with snow expected in the South Island and rain and thunderstorms across parts of central New Zealand.
However, things will mostly clear up by Monday afternoon, MetService meteorologist Josh Griffin says.
"There is a bit going on across the country, snow in the south could affect roads.
"We do have quite a few watches out, there is this complex low crossing the country today."
Road snowfall warnings were in place across the South Island, including SH1 from Dunedin to Waitati.
From 8pm Sunday to 6am Monday 4cm to 8cm could accumulate about the summit of the road, with lesser amounts to 200m.
The southerly blast was expected to hit Dunedin this afternoon, potentially bringing heavy rain to the city, followed by snow above 300m first thing tomorrow.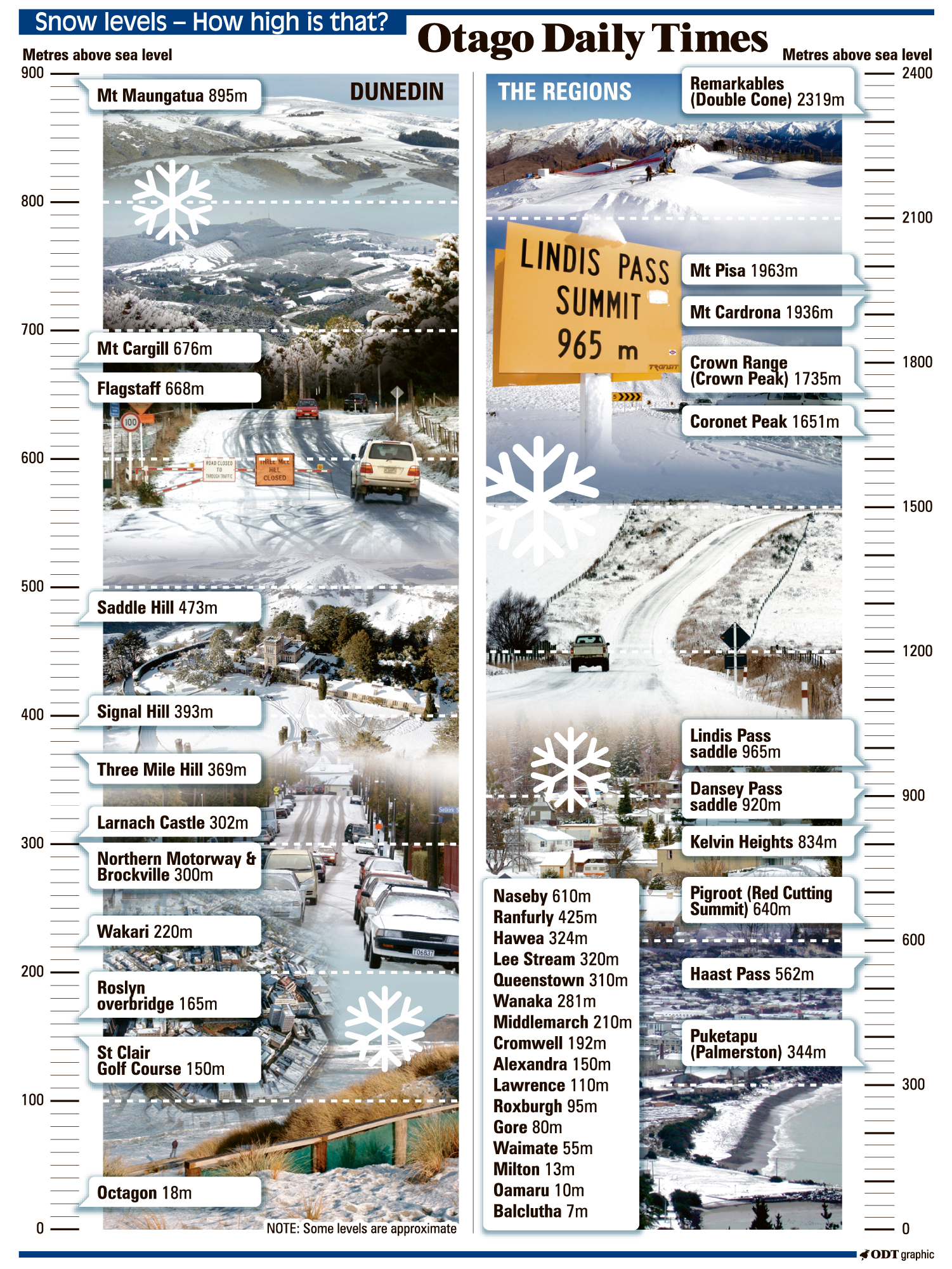 Snow or sleet was also expected in Queenstown, Alexandra, Wanaka this evening and tomorrow morning.
The overall forecast for the South has eased a little, with MetService now expecting snow as low as 300m south of North Otago rather than the earlier 200m.
In the north, a heavy rain watch is in place for the Bay of Plenty east of Opotiki and the Gisborne ranges as well as Mt Taranaki and the Tararua range.
Strong cold southerlies developing around the South Island will be bringing snow down to 100m in some places.
The fast-moving front passing over the country would be followed by a disturbed west to northwest flow spreads onto central and northern New Zealand bringing a risk of thunderstorms.
"There is a moderate risk of thunderstorms about Northland, Auckland and the Coromandel Peninsula before dawn, and about the Bay of Plenty during the morning.
"These thunderstorms have the potential to bring localised heavy rain of 10 to 25 mm/h, strong winds gusting 90 to 100km/h and the possibility of a small tornado about eastern coastal areas. There is also the possibility one or two of these thunderstorms may become severe."
In the west of the North Island from Waikato to Taranaki, there is a moderate risk of thunderstorms mostly during the morning, starting before dawn in Taranaki and later in the morning for the rest of the area.
In the South, a heavy snow watch is in place for North Otago and parts of Canterbury south of the Waimakariri River.
Snow is expected down to 400m on Sunday evening, then down as low as 200m on Monday morning.
"Significant snow accumulations are expected above 600 metres, and accumulations could approach warning amounts above 400 metres."
A watch is also in place for Southland, eastern parts of Fiordland, and Otago, excluding North Otago.
"Snow is expected to lower to 300 to 400 metres during Sunday evening, then to 300 metres early Monday morning."
Several roads are expected to be affected by snowfall, including Lewis Pass (SH7), Arthur's Pass (SH73), Porters Pass (SH73), Haast Pass (SH6), Crown Range Road, Milford Road (SH94) and Dunedin to Waitati Highway (SH1).
MetService advised to stay up to date with the latest forecast as areas on watch may be upgraded to a warning, and further areas added.
Today's forecast
Whangarei: Showers, chance heavy with thunderstorms in the afternoon. Brisk northwesterlies.
High 19C Low 9C
Auckland: Showers, chance heavy with thunderstorms in the afternoon. Brisk northwesterlies.
High 17C Low 9C
Tauranga: Morning rain, heavy and chance thundery, then showers. Northerlies tending brisk northwest.
High 17C Low 8 C
New Plymouth: Morning rain then showers, some heavy with hail and chance thundery. Brisk northwest developing morning.
High 15C Low 8C
Napier: Cloudy with brief rain during the morning, then fine spells. Brisk northwesterlies.
High 19C Low 8C
Wellington: A period of morning rain followed by a few showers, clearing at night. Strong, gusty northerlies.
High 14C Low 8C
Christchurch: Light rain at times, becoming persistent and possibly heavy this evening as northerlies change strong cold southerly.
High 13C Low 5C
Dunedin: Cloudy with northerlies. Rain, possibly heavy, developing by evening with a cold southerly change.
High 12C Low 6C
With ODT