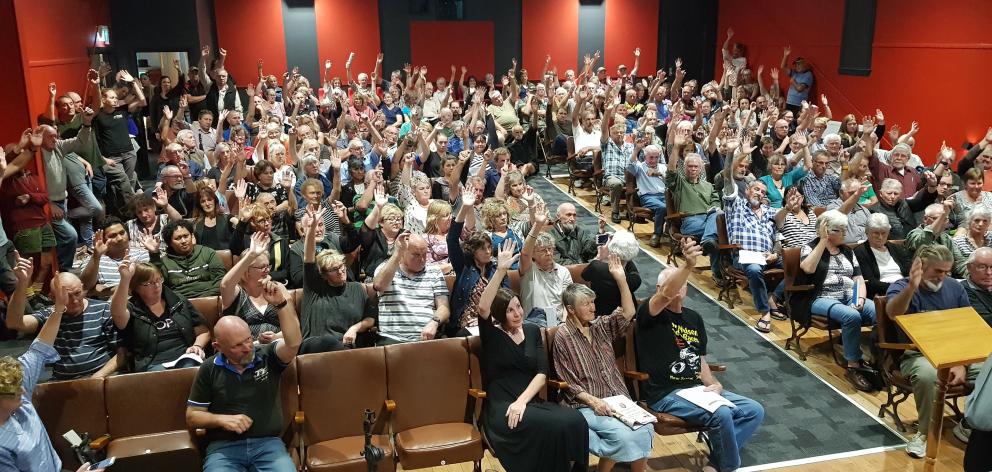 A crowd of 253 filled the Reefton Community Hall on Wednesday night to protest plans by Renew Energy Ltd to store baled waste up to five storeys high on the edge of town.
It was said to be the biggest gathering since the 1988 'Hands Around the Hospital' protest against the planned closure of Reefton Hospital.
Renew Energy Ltd proposes railing in rubbish from around the South Island for burning in a possible waste to energy plant at Westport.
Renew did not attend the meeting, which was opened by Mike Garvey, who said it was about the waste - not the company.
John Bougen, from the local business association Reefton Inc, said Renew would receive a hefty payment for taking the rubbish as it was cheaper to pay them than what it would cost to dump at the Kate Valley landfill in North Canterbury.
Renew would then on-sell the rubbish to the waste to energy plant, which was looking at sites in Westport.
"I'm not even sure we can trust the council," Mr Bougen said. "And as for our local MP, Damien O'Connor, we've heard nothing."
Blacks Point resident Keith Tonkin gathered 600 signatures on a petition against the move.
Wilsons Hotel owner Jimmy Foster said the townspeople needed to give Reefton Inc a mandate to vote on their behalf.
Patsy Bass, managing director of Reefton Distilling Co, said that nearly every day people who had decided to move to and live in Reefton had second thoughts on hearing of the "dump".
She and Mr Bougen had written letters to MPs and she encouraged others to do the same.
Wayne Murtha suggested putting the dump on Conservation Minister Eugenie Sage's private property at Charleston.
Mr Bougen said that if resource consent for the dump was granted by the Buller District Council, "then it's straight to the High Court," and if that failed they would appeal to the Environment Court.
The meeting ended by urging people to write to MPs, and meanwhile Reefton Inc will continue to work in the background.
- By Claire Ward in Reefton