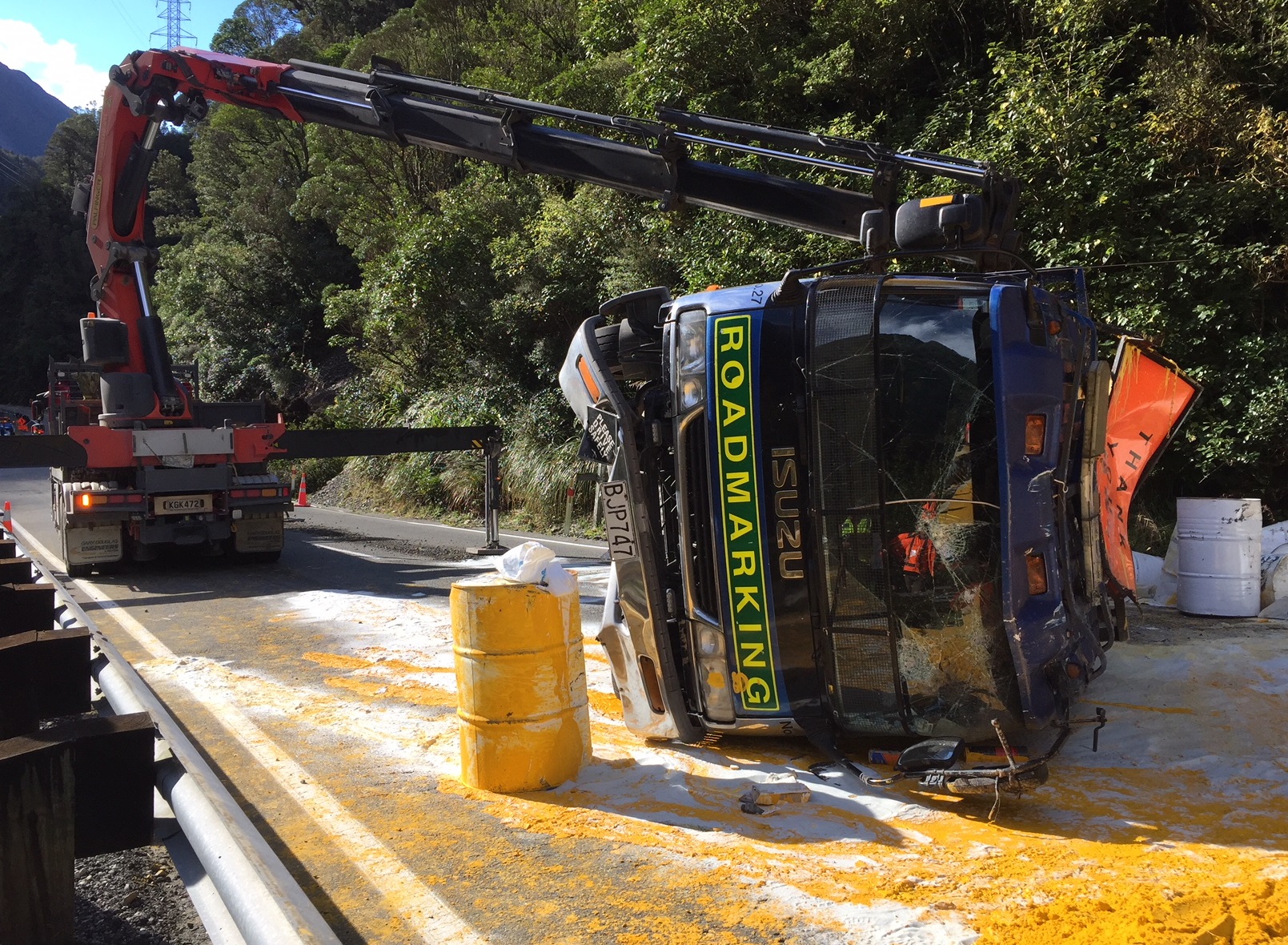 The driver of a road marking truck had a lucky escape on Tuesday when the brakes failed while descending the Otira Gorge before flipping about halfway down from Candys Bend.
Both the New Zealand Transport Agency and the police yesterday reported the crash as being at the Devils Punchbowl, on the edge of Arthur's Pass township, but rural fire party chief Peter Neal said that was wrong and it was actually miles away.
"It was actually halfway down Otira Gorge - just below the viaduct," Mr Neal said.
The crash, shortly before 11.30am, closed State highway 73 for some time due to a large spill of yellow road marking paint from the back of the truck.
The truck had flipped on to its side after the brakes while coming down the viaduct. It had been travelling in convoy with another roadmarking truck ahead and when the driver of the truck got into trouble, he tried to use the vehicle in front as a brake to slow down.
However, that failed and the truck flipped on to its side and was only stopped from falling 30m over the side into the Otira River by the protective barriers.
"It got stopped by the barrier, thankfully," Mr Neal said.
The driver was considered "extremely lucky" to get out unscathed.
His truck was carrying a quantity of water-based road marking paint which spilled across the road and into the road edge, without getting into the waterway.
"We managed to contain it all."
Mr Neal said the road was later opened to one lane because the spilled paint contained glass reflector beads and was extremely slippery.
It took some time to co-ordinate a clean-up and a crane had to be brought to the scene from Crofts Transport at Stillwater to help remove the truck.
The spilled paint was apparently being left in the meantime.
- By Brendon McMahon