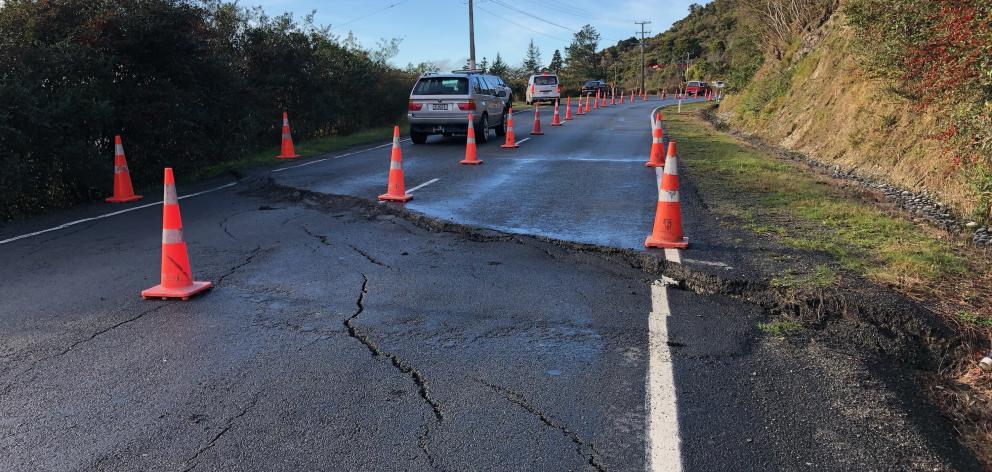 The New Zealand Transport Agency says it is keeping a "minute by minute" watch on a slump in State highway 7 at Omoto after significant movement of the historic slip area on Sunday and Monday morning.
Uncertainty over the slumping has also cut rail services into Greymouth yesterday, with the Tranz Rail passenger service to be terminated at Moana in the meantime.
The main sewerage line to Kaiata is also at risk, and phone and internet connections were cut for a time.
NZTA West Coast maintenance contract manager Moira Whingham said the slip had started to move significantly Sunday afternoon and was continuously monitored overnight.
It moved again visibly early yesterday with "a noticeable split" in the road surface.
As a result the road was reduced to single-lane traffic at the slip point, with stop-go procedures in place to keep the road open.
Staff were keeping "a minute by minute" watch for any further movement.
Grey District Council utilities engineer Kurtis Perrin-Smith said the council's main concern was the state of the sewerage line from Kaiata under the road at the slip point. Like the transport agency, the council was keeping a close watch as things evolved yesterday.
"We do have the sewer rising main coming through from Kaiata there, through the middle of the road. We're just investigating that. Obviously it will have moved with the road," Mr Perrin-Smith said.
The Omoto reservoir -- the main water storage for the Greymouth town water supply -- is several hundred metres away from the slip and is not thought to be in imminent danger, although the council was also keeping an eye on that area.
"At this stage there is no reason to believe there's any problem," Mr Perrin-Smith said.
The movement in the road was certainly "quite significant" and would require work to secure the sewerage line.
"We will need to do some alterations to the pipework."
Kiwi Rail head of tourism and marketing Ahleen Rayner said they had taken the precautionary measure of taking the Tranz Alpine only as far as Moana yesterday.
"Customers who had booked on the service yesterday are being advised of the change and are being provided with a range of options to facilitate their travel to Greymouth," Ms Rayner said.
Kiwi Rail network staff were on the ground inspecting the slip site.
 - by Brendon McMahon