A young couple, their seven-week-old baby and flatmate fled for their lives when a Greymouth house was engulfed in flames early today.
They got out of the old rented home, in Buccleugh St, with some clothing and gear for the baby but lost everything else. They were not insured.
"They're still pretty shook up," a family spokeswoman said.
The Greymouth Volunteer Fire Brigade was called when the fire first broke out at 12.30am and left after extinguishing the blaze. The occupants also left to stay with relatives, but about 3.30am the fire sparked up again, this time fanned by the strong, gusting winds and within minutes the house was a mass of flames.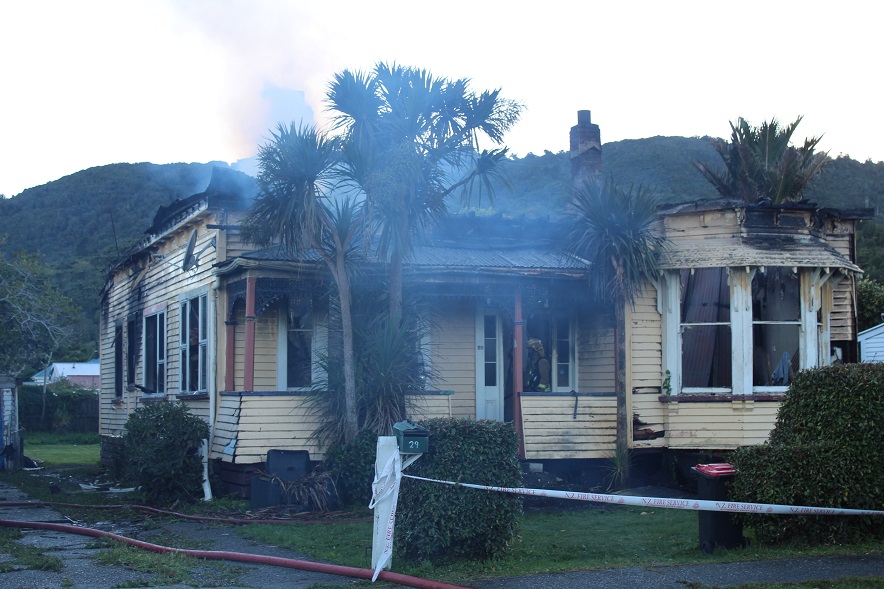 It took 40 firefighters from to bring it under control and prevent the flames from spreading to neighbouring houses on either side.
When the first fire started, the baby's father woke up to find the house full of smoke.
"He smelt the smoke and couldn't see to the toilet at the back of the house for smoke; he woke them and got them out and waited for the Fire Service to arrive," the family spokeswoman said.
Fire chief Lee Swinburn said the back section of the house well ablaze when the brigade got there just before 1am.
"We had 20 firefighters there and there was no wind at that stage," Mr Swinburn said.
Satisfied the fire had been put out, the firefighters left the scene but were called back just after 3.30am.
By this time a strong northwesterly wind was blowing and the old wooden house was well alight.
"Because of the size and configuration of the house, with it being on piles, as well as strong winds, it was tough to control," Mr Swinburn said.
The fire spread quickly through the bone dry building.
"We used multiple breathing apparatus sets -- you get about 20 or 30 minutes out of a set -- using six-people crews at a time. We deployed crews internally but then retreated due to the extreme attack of the fire."
Eight fire hoses were then trained on the house and eventually the fire was contained.
"It was a difficult with the northerly wind a real challenge; the wind was pushing the flames from one end to the other. We struggled to keep up with it, which shows the force of nature," Mr Swinburn said.
"It was a challenging event, that's for sure."
A watch was kept on the scene and the brigade was called back to the site three times.
"Police put a guard on the premises and investigators are on the scene this morning."
The rental property is managed by Harcourts and a spokeswoman said today they would accept donations of goods and clothing to help out the young couple and their baby, who had lost everything in the fire.
 - Chris Tobin