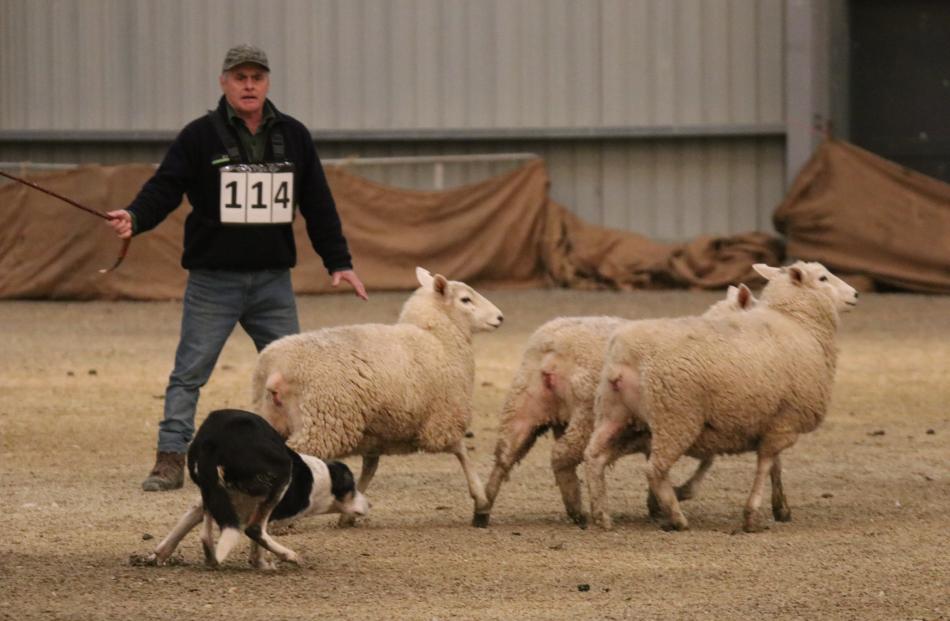 Sheep dog triallists and their best friends headed to Waimumu, near Gore, last week.
Lots of dogs had their day showing the sheep where they were supposed to go on August 9, 10 and 11 - before the region entered Alert Level 2.
Competition convener Mike Joyce said triallists were glad to be competing again in the Southern Indoor Charity Dog Trials at the Southern Field Days site after the Covid-19 lockdown cut the dog trial season short.
"People are keen to go out, we've been locked up," Mr Joyce said.
The competition was close and one point separated winner Bill Hinchey and Trick from Des Lysaght and Ace.
There were about 170 entries in the three-day event and competitors travelled from as far away as Blenheim.
"We are up on the last couple of years by about 30 to 40 runs."
This was the fourth year the competition had been held and money raised from the event would go to Hospice Southland.
Ewe hoggets, which belonged to Stan MacGibbon, of McNab, grazed the site and were used for the competition which was judged by Graham White, of Taieri.
Competitors had 10 minutes to complete the course and the secret of doing well was keeping the sheep calm.
"The quicker dogs tend to spook the sheep a little bit. A nice quiet dog gets on better," Mr Joyce said.
Sandy Eggleston
Results. —
Open: Bill Hinchey (Trick) 88 1, Des Lysaght (Ace) 87 2, Brian Dickison (Cole) 81 3, Brian Dickison (Ash) 80.5 4, Barry Hobbs (Jane) 77 5, Jack Davis (Dick) 73 6, Fred Sutherland (Scott) 68 7.
Maiden: Russell Peek (Kip) 85 1, Rod Coulter (Blue) 83 2, Trevor Wilson (Coin) 81 3.
Novice competitor: Andrew Moylan (Magan) 79 1, Jon Dennis (Jean) 77 2, Erica Sharp (Lace) 71 3.