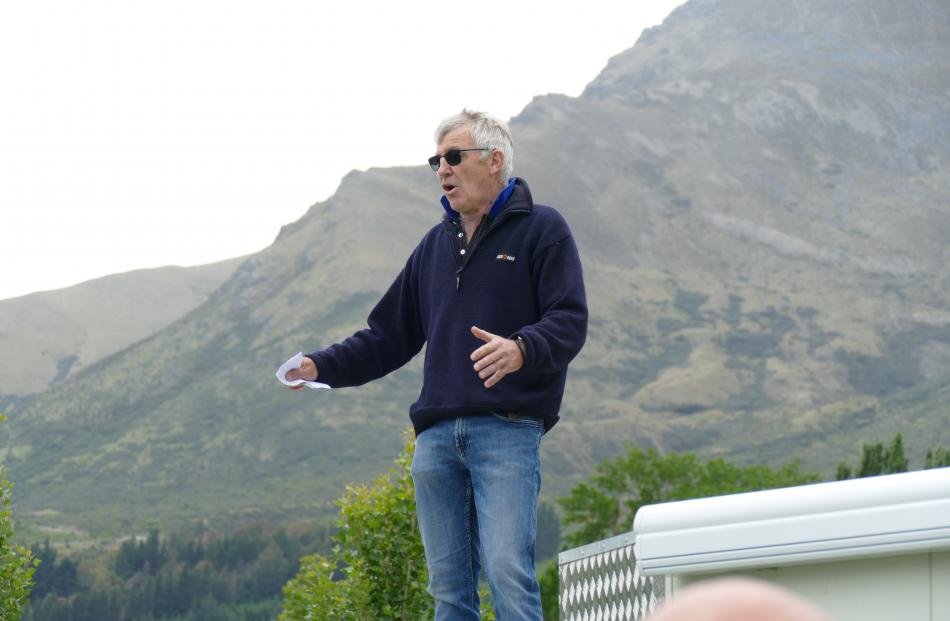 Thousands of supporters turned out across the South in support of rural advocacy group Groundswell's "Mother of All Protests" yesterday afternoon.
In the demonstrations, which came on the heels of the group's "Howl of a Protest" in July, farmers returned to urban centres in tractors and other farm vehicles to protest the level of Government regulation of the rural sector.
In Gore, Groundswell leaders Laurie Paterson and Bryce McKenzie said attendance had greatly outstripped expectations.
Mr Paterson said at least 300 people had preregistered for the Gore protest, but there were far more present at the 1pm gathering.
"If there wasn't a thousand people driving around I'd have been surprised."
Mr McKenzie said it was good to see the high level of support from the community.
"Certainly in Gore it's been a great success," he said.
The gathering continued until about 2.30pm, when many of the protesters mingled at local cafes, bars and restaurants.
In Timaru rain did not stop hundreds of vehicles with signs such as "steal our water at your peril", "a real leader would listen to her people" and "be kind to farmers" clogging Stafford St.
Timaru residents stood with signs along the street and were greeted with honking horns from the utes and tractors.
This protest was one of five in South Canterbury, alongside Fairlie, Temuka, Geraldine and Waimate.
Timaru Mayor Nigel Bowen stood with the protesters at the top of Stafford St. He said he was standing in solidarity with the Groundswell protest.
In Alexandra about 200 vehicles including tractors completed a continuous circuit of Centennial Ave from about 1pm as farmers and others industries involved in the rural sector converged on the town.
Those taking part in the mobile protest gathered outside the town at Bridge Hill and in Blackman and Galloway Rds, determined to make a statement against what farmers say is increasingly unworkable legislation.
In keeping with Groundswell's rules most signs were on-brand, although some vehicles did carry signs from other lobby groups such Voices for Freedom, albeit with a farming focus such as "no farmers, no food".
In Invercargill protesters showed their support by driving from Dee St to Gala St.
There were plenty of toots from drivers and cheering from bystanders as farm utes, tractors and a traction steam engine made their way through the streets.
Organiser Bruce Robertson said he felt proud to see the major turnout of supporters, both urban and rural.
From the number of farmers who supported the protest it was clear the Government's regulations were unworkable, he said.
"This is us uniting against policies such as the Three Waters reforms, the ute tax, the water tax and just a combination of things.
"This is us standing up for our rights and making it count."
In Oamaru, a long line of traffic backed up Thames Highway as the country came to town to protest the unworkable conditions farmers faced.
Protesters were driving tractors, utes, sprayers, cars and old fire trucks, and there were dogs barking — a theme of the previous "Howl of a Protest" in July.
Due to Covid-19 restrictions there were fewer people supporting on the side of the road, but those who were made themselves known, cheering and waving their signs.
In Balclutha scores of farm vehicles and pedestrians paraded through the town.
At an address at Elizabeth St Plaza, spokesman Stan Smith said: "This isn't about Covid, this is about other agendas that are being forced past us under the confusion of Covid.
"There's no discussion or debate. This Government is pushing through big changes whether the people of New Zealand want them or not."
In Queenstown about 70 vehicles and four tractors congregated in Woolshed Rd near Hanley's Farm for the protest. The group drove the 15km to Queenstown's town centre, travelling down the main street, turning around at the bottom of Fernhill before dispersing.