The Ministry for the Environment is funding an Agrecovery programme to deliver six pilot rural waste management one-stop-shop events next month.

The events will enable farmers and growers to drop off chemical waste and plastics at one of the depots for safe disposal.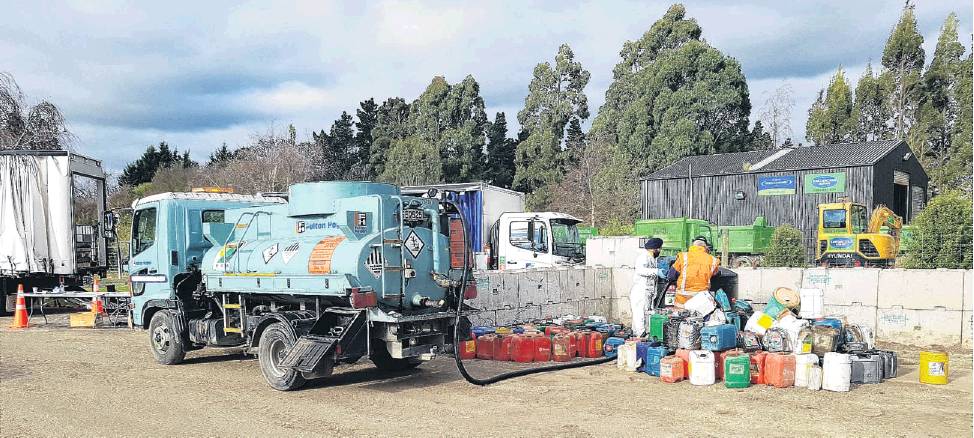 At the scheduled Winton event, farmers and growers will be able to drop off chemical containers, silage and bale wrap, fertiliser and feedbags, waste oil and unwanted chemicals for safe disposal and, in some cases, recycling.
All items will be able to be dropped off at one collection point.
The Winton event will be held on September 4. Agrecovery held two similar trial events in 2018 in Geraldine and Matamata and collected nearly 20 tonnes of rural waste.
The success of these events prompted the expansion of the pilot into four new areas with the assistance of ministry funding.
South Island farm manager Aaron Gorrie participated last year and hosted an open day on the farm he manages prior to the pilot event so people could find out more about the project.
''Like most farmers, we are committed to sustainable farming,'' he said.
''It's important to leave a legacy for future generations.''
''We have a farm environment plan in place, and we work hard to ensure we meet the requirements of the plan.''
''This is a great opportunity to have unwanted chemicals correctly disposed of.''
''Since the 2018 event we have changed the way we manage our waste chemicals and containers.''
''Containers are now rinsed immediately and stored separately in an easily accessible place and we make regular drops to the Agrecovery collection site,'' he said.
The Agrecovery Foundation started in 2007, with a product stewardship programme designed to help clear plastic agrichemical containers and drums from farms and orchards around the country.
The agrichemical industry funds the programme and recycles waste.
The programme also sustainably disposes of unwanted agrichemicals.
Pop-up events are held throughout the country and waste can also be dropped at fixed collection sites. However, the events next month will be unique because of the increased number of items that can be dropped off.
Environment Southland senior pollution prevention officer Leonie Grace said the event was a great opportunity for Southland farmers to safely dispose of a range of farm waste.
''Like any business, farmers are required to plan for waste disposal from their operation,'' Ms Grace said.
''This is a one-off chance to get rid of items such as baleage wrap, plastic chemical containers, unwanted chemicals and used oil.
''We're going to be on-site to assist Agrecovery on September 4, and we encourage farmers to book in early to make the most of the occasion.''
Waste must be prepared properly before drop-off and farmers and growers interested in registering for the events and finding out more about how to prepare material for drop off should visit
www.agrecovery.co.nz
''We know that farmers and growers care about their land and ensuring a sustainable future for future generations.
''We also know how hard it is to dispose of on-farm waste safely.''
''That's why these pilot events are so important. Agrecovery chief executive Simon Andrew said they enabled us to better understand what worked for farmers and the future services that we could provide to help with safe and environmentally friendly on-farm waste management.''
Further information contact: Brian Vass, Agrecovery, Phone 021 870423
Content supplied by Agrecovery