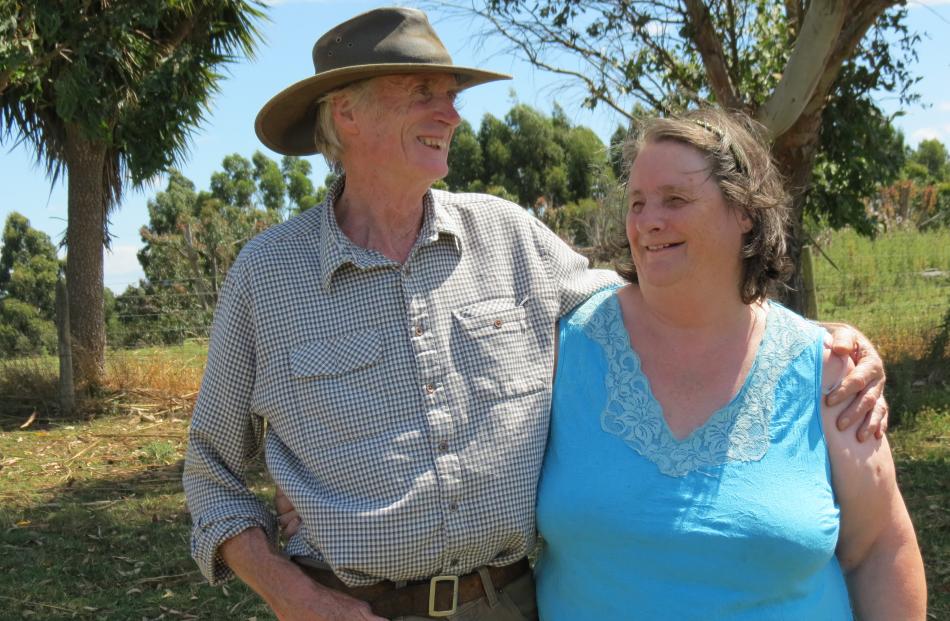 Country music singers Ron and Kathleen Gallagher have a small flock of some of the rarest sheep in the country.
There are thought to be about 100 Stewart Island sheep left in New Zealand and the Owaka couple have about 30 on their 8ha lifestyle block.
The Stewart Island sheep are a coloured, feral version of the merino, and are descended from those released by sealers and whalers on to Stewart Island in the 1800s and those which escaped from sheep farming operations.
They look similar to Arapawa sheep and Pitt Island sheep, with black and brown-toned fleeces.
The rams have finer horns than merinos and are far less prone to parasites and dags.
''They usually have a patch of white between the eyes and a white tip on the tail,'' Mr Gallagher said.
Mrs Gallagher said when the Department of Conservation wanted to eradicate the sheep on Stewart Island [to prevent them damaging native forests] in the mid 1990s, they acquired six females and a ram and have since bred them, running them in two mobs.
The couple are popular country music singers and perform all over the country.
They have a wall full of trophies for their successes in various music competitions and have also released a CD and a DVD.
In Stewart Island sheep flocks, one female is in charge and will act as lookout.
The mothers are extremely protective and tend to hide their lambs, which is a survival mechanism.
''They don't have triplets and only some, about a quarter, have twins and the majority have singles,'' Mrs Gallagher said.
''We had their wool tested and it is a fine 14 micron and for a black fleece, that is very good.''
She said they were looking at bringing another ram in to add genetic diversity, but in the meantime are running them as two flocks.
Mr Gallagher said the meat was lean, with a different texture to commercial merino, and it tasted ''pretty spectacular''.
They do not tail the lambs as they are unlikely to get dags and do not normally need to drench them.
They do not get footrot.
The Gallaghers also have six alpacas, and about 50 Drysdale and Drysdale-cross sheep, which are another rare breed.
Mr Gallagher also shears alpacas, llamas, and other camelids throughout the South Island.
-By Yvonne O'Hara