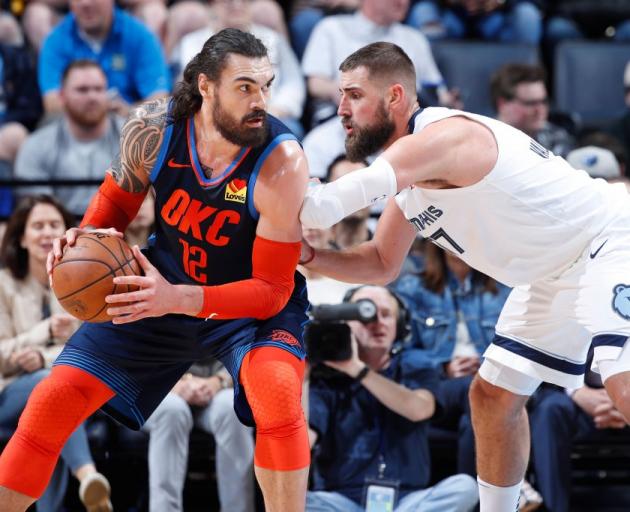 Basketball New Zealand hopes to have Steven Adams' decision locked in a month before the World Cup.
The Oklahoma City Thunder centre is yet to commit to the Tall Blacks for this year's World Cup in China, which starts on August 31. In fact, he's yet to pull on the black singlet at all.
As revealed by the Herald on Sunday last year, Adams decided to turn his back on the New Zealand national side as a 15-year-old when he couldn't pay "thousands of dollars" to represent his country.
Sources close to the Oklahoma City Thunder centre told the Herald his continued Tall Blacks exile stems from when he was forced to withdraw from the Junior Tall Blacks' 2009 World Cup campaign.
Adams' mentor and New Zealand National Basketball League legend Kenny McFadden said had Adams been better financially supported by Basketball New Zealand (BBNZ) as a youngster, he has no doubts the star would have worn the Tall Blacks singlet by now.
Now, BBNZ face the tough task of convincing the now-25 year old to play for them at this year's World Cup. And they're hopeful, now that he's had a couple of weeks to reflect on his NBA season, that they're doing all they can.
"We've been communicating with him and his agent, just to make sure all of the information is put in front of him, so that he can make the decision fully informed.
"I'm confident there's an open communication channel to Steve, his agent and OKC. I don't know the thoughts on the other side. But we're always hopeful. Steve's an icon of the sport in New Zealand, and the World Cup is the big thing."
Those from other countries may even end up doing BBNZ a favour. Several NBA players have already committed to their own nations, the latest being Ben Simmons. The Philadelphia 76ers and Australia player yesterday announcing he'll wear the green and gold of at the World Cup.
"He'll see a lot of people he plays with and against who are going to the World Cup. It won't be an uncommon thing. There'll be 50, 60, 70 NBA players across the 32 teams. So we hope that illuminates that it is a big deal and a lot of players see that." Potter believes.
"I've talked to representatives from a few countries recently. Australia, Serbia, France, Canada, just to name a few, and they'll have NBA packed teams. The Aussies will have 10 or 11, the other three may have five, six or seven."
The discussions will likely continue for the next couple of months. After all, they can leave it late.
"The team will get together after the NBL finals [July 21] and you'd want to know going into that process what his availability was. That's as late as we'd want to leave it though."
BBNZ are not heavily relying on it though.
"We're planning on what we know. And we don't know that he's going to be there or not. It's not central to our planning though. We have two-plus athletes who are all in contention to go."
There is no doubt Adams would be an asset to this side. He averaged almost 14 points, nearly 10 rebounds and a block this NBA season.
But there are other options to fill the centre role if required. Jack Salt was part of the championship-winning Virginia team in this year's NCAA tournament, while ANBL players Alex Pledger and Rob Loe are also options.
That doesn't stop Potter from being willing to go to an extreme length, if push comes to shove, to get Adams playing for New Zealand.
"I'd crawl across the road naked if I thought that would make a difference…but we don't want that. No one wants that."