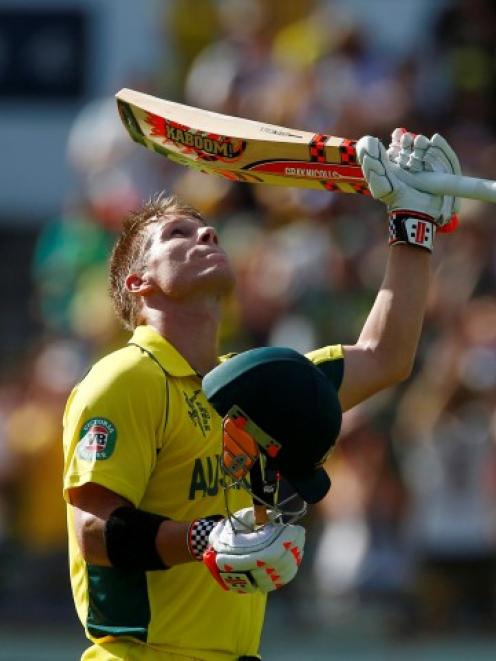 Shane Watson felt the full force of the axe as sparkling knocks from David Warner and Glenn Maxwell lifted Australia to a record 275-run World Cup win over Afghanistan at the WACA Ground.
Warner blasted 178 off 133 balls, before Glenn Maxwell inflicted his own carnage with 88 off 39 balls, to lift Australia to 6-417.
In reply, Afghanistan were dismissed for 142 in 37.3 overs despite the best efforts of Nawroz Mangal (33).
Paceman Mitchell Johnson (4-22) was the chief destroyer, while Josh Hazlewood and Mitchell Starc chipped in with two wickets each.
The result was the largest World Cup victory, bettering the 257-run wins posted by India in 2007 and South Africa last week, and was the second-biggest ODI win in history.
The win lifted Australia up to third in Pool A ahead of Sunday's crunch clash with Sri Lanka at the SCG.
Watson might have to rely on injuries in order to break back into the side after being dropped for James Faulkner against Afghanistan.
Although Faulkner and fellow allrounder Mitch Marsh failed to fire against the cricketing minnow, they appear to have jumped ahead of Watson in the pecking order.
Marsh, who was expensive with 0-25 off three overs, appeared proppy at times while bowling, but he was able to complete the match.
Warner cracked 19 fours and five sixes in his blistering knock, with Steve Smith (95 off 98 balls) also impressing.
Australia's total was a World Cup record, and the seventh highest in ODI history.
The only other time Australia had posted a score in excess of 400 was in 2006, when their 4-434 wasn't enough to beat South Africa.
Cheers rang out around the WACA when Afghanistan won the toss and resisted the temptation to bat first.
But the cheers turned to shocked silence in the third over when Aaron Finch edged Dawlat Zadran to first slip.
With the scoreline reading 1-14, Australia's hopes of building a 400-plus total looked shaky.
But Warner and Smith made light of the situation, combining for Australia's highest ever ODI partnership (260) to take control of the game.
Afghanistan's bowlers weren't the only ones feeling the pain.
A young boy in the crowd was left in tears after being hit in the hand by one of Warner's mammoth sixes.
An ice pack seemed to soothe the young boy's woes, but the Warner rampage continued as the 28-year-old approached his double century.
Warner's knock was brought to an end in the 38th over, but Maxwell picked up the slack to ensure Australia surpassed 400.
Afghanistan's openers resisted the initial onslaught from Starc and Hazlewood, but Johnson's introduction in the seventh over sparked a collapse of 3-16 to set Australia on their way.
Warner paid the injured boy a visit during the game to make sure he was OK.
"I didn't realise until I saw it on the big screen," Warner said.
"I gave him a pair of gloves and I signed them.
"I had a quick chat with him and his father. He had a bit of a bandage on him, but he's a bit better now.
"I said I hope he gets well."
Afghanistan coach Andy Moles said his team's bowling effort became wayward after a strong start.
"We ran into a freight train today," Moles said.
"We were outskilled - outbullied if you want to put it that way.
"They were exceptional, and we came up short. We hold our hands up, and there's no excuses."
HIGHEST ODI TEAM SCORES
*9-443 Sri Lanka v Netherlands in 2006
*2-439 South Africa v West Indies in 2015
*9-438 South Africa v Australia in 2006
*4-434 Australia v South Africa in 2006
*5-418 South Africa v Zimbabwe in 2006
*5-418 India v West Indies in 2011
*6-417 Australia v Afghanistan in 2015
*7-414 India v Sri Lanka in 2009
*5-413 India v Bermuda in 2007
*8-411 Sri Lanka v India in 2009
*4-411 South Africa v Ireland in 2015
HIGHEST ODI PARTNERSHIPS
*372 - Chris Gayle, Marlon Samuels for West Indies v Zimbabwe 2015
*331 - Sachin Tendulkar, Rahul Dravid for India v New Zealand 1999
*318 - Sourav Ganguly, Rahul Dravid for India v Sri Lanka 1999
*286 - Upul Tharanga, Sanath Jayasuriya for Sri Lanka v England 2006
*282 - Upul Tharanga, Tillakaratne Dilshan for Sri Lanka v Zimbabwe in 2011
*275* - Mohammad Azharuddin, Ajay Jadeja for India v Zimbabwe in 1998
*274 - James Marshall, Brendon McCullum NZ v Ireland in 2008
*267* - Grant Elliott, Luke Ronchi for NZ v Sri Lanka 2015
*263 - Aamer Sohail, Inzamam-ul-Haq for Pakistan v NZ 1994
*260 - David Warner, Steve Smith for Australia v Afghanistan 2015
BIGGEST WORLD CUP WINS (BY RUNS)
*275 - Australia over Afghanistan in 2015
*257 - India over Bermuda in 2007
*257 - South Africa over the West Indies in 2015
*256 - Australia over Namibia in 2003
*243 - Sri Lanka over Bermuda in 2007
*231 - South Africa over Netherlands in 2011