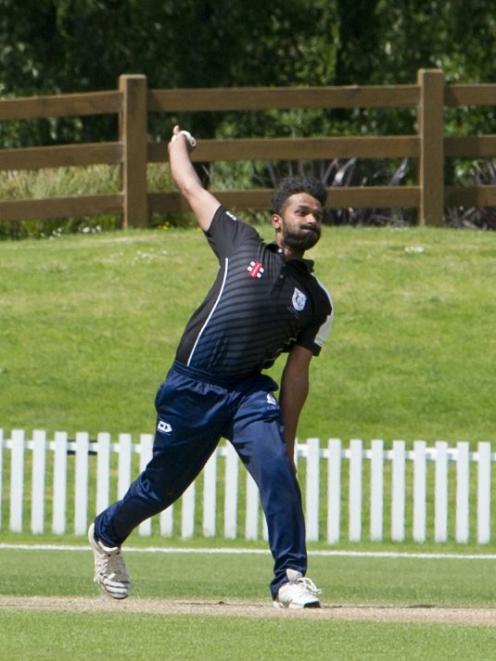 North East Valley timed its run to perfection to win the Dunedin twenty20 club competition yesterday.
The side won a low-scoring final at the University of Otago Oval, by two wickets with an over to spare.
Halfway through the competition and North East Valley had only won two games from five. But it then went on a roll and won five straight matches to get into the final against Carisbrook-Dunedin Kaikorai.
Albion had the chance to get into the final in the last two round robin games on Saturday but it lost both of its games, which opened up the path for North East Valley.
Yesterday, the Valley side made a dream start and never looked back.
Travis Muller bowled Jordan Gain from the first ball of the innings and the combined team struggled from then on.
Josh Finnie hit 21 off a Blair Donaldson over but Finnie went for 24 shortly after and Carisbrook-Dunedin Kaikorai slumped to 48 for five.
It then went through to 80 for seven wickets before being dismissed for a paltry 105 with three balls left in its innings.
Jack Pryde scored 28 to get the combined team over 100.
Chasing a small target, Will Kindley hit a four off the first ball of the innings and when the side was 52 for one wicket off six overs, it looked like a walk in the park.
It then began to lose wickets as it rather sleep-walked to the target.
Opener Hayden Johnston held it all together, bringing up his 50 with a big six over long on.
But he was dismissed three runs short of the target, as North East Valley lost three wickets in getting the final three runs to win.
It ran a leg bye to win the game with six balls to spare.
In the last of the round robin games played on Saturday a couple of individual performances stood out.
In an early game at Logan Park, Carisbrook-Dunedin Kaikorai all-rounder Nathan Smith whacked 95 off just 30 balls, hitting 12 sixes, as the combined team amassed a hefty 237 for four wickets off its 20 overs.
The University Grange team could only make 136 for nine wickets in reply.
Carisbrook-Dunedin Kaikorai lost to North East Valley, whose win was set up by a massive unbeaten 149 by Otago batsman Llew Johnson.
He faced 66 balls and hit 12 fours and 11 sixes.
In other games, Green Island scored 151 for six wickets and Taieri replied with 132 for nine wickets.
North East Valley had a narrow win over Albion.
Valley scored just 111 but Albion could only mount 96 in reply and blew its first chance of getting into the final.
Green Island just squeaked past Albion at Tonga Park in the afternoon.
The suburban side scored 150 and Albion managed 147 to blow its final opportunity.
University Grange bounced back from its hammering in the first game to beat Taieri in the afternoon.
Taieri could muster only 119 in reply to the 148 set by its opponent.