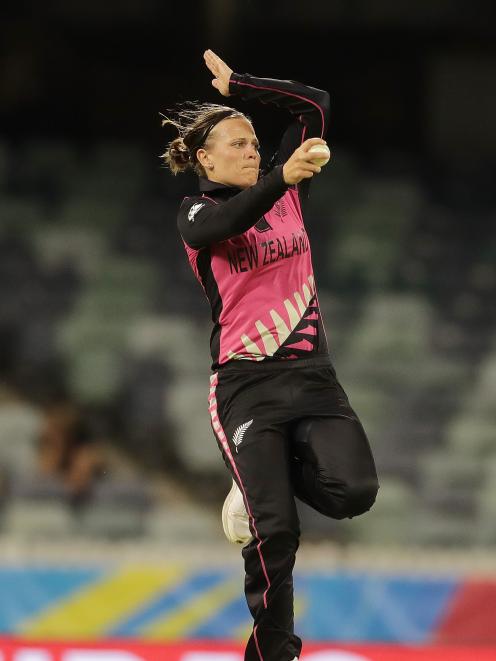 A significant match looms for the White Ferns.
India awaits in Melbourne this afternoon, as the side plays its second match of the Women's Twenty20 World Cup.
Both sides remain unbeaten.
The White Ferns claimed a handy win over Sri Lanka in their only match so far.
However, India toppled host Australia in its opener and followed up with a win over Bangladesh in its second outing.
That will be an ominous warning for the New Zealanders.
A loss would probably leave the White Ferns to play a virtual quarterfinal against Australia while a win would put the pressure on the Australians to beat the White Ferns to give themselves a chance of forcing a three-way tie.
Opening bowler Lea Tahuhu said it was great to get a win first-up, although she felt the side had learnt plenty from it as well.
"It was obviously good to get on the board nice and early against Sri Lanka.
"You say comfortable, we say we learned a little bit out of it.
"So always nice to kick-start the tournament with a win anyway."
The Indian duo of Poonam Yadav and Shikha Pandey were destructive with the ball against Australia.
They picked up seven wickets between them, tearing through a strong Australian battling line-up to dismiss the home side for 115.
However, New Zealand has a strong answer for any bowling attack at the moment in Sophie Devine.
The destructive opening batsman smashed 75 runs off just 55 balls in yet another strong display of her rich form.
Tahuhu said that was helping boost the side.
"'It's always nice having that confidence when she's at the crease.
"You feel like you're in safe hands at the moment.
"Her form's been exceptional for the past six months and we're hoping it continues for another three weeks."
India has its own star opener with the bat in 16-year-old Shafali Verma.
However, Tahuhu was looking forward to the challenge of bowling to her.
"I actually played her in the IPL last year.
"Like you say, she's not going to take a step back, but personally I love that.
"That makes me fire up a bit more and I'm really looking forward to it."
The game begins at 5pm.