Exciting Otago United forward Joel Stevens has been named in the Junior All Whites squad for the Oceania under-20 championship.
Stevens is joined by another product of Otago Boys' High School, midfielder Cameron Howieson, in the 20-strong squad announced by coach Chris Milicich yesterday.
It has been a roller-coaster year for Stevens, who made a big impact for Otago United in the ASB Premiership before suffering a serious shoulder injury.
Selection in the national youth squad for the tournament in Fiji from March 21 to 29 is appropriate recognition for a player rated the most exciting to come out of Otago in years.
Howieson, who plays for English club Burnley in the Championship, will anchor the All Whites midfield.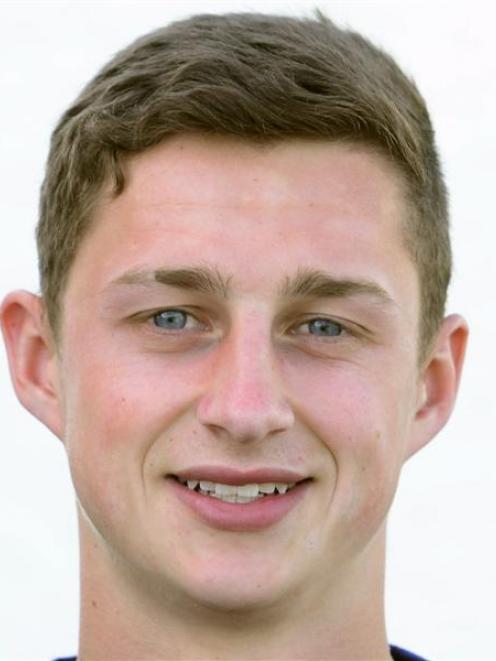 The squad also features Wellington Phoenix tyros Louis Fenton and Tyler Boyd, and five players - Scott Basalaj, Tom Biss, Justin Gulley, Alec Solomons and Hamish Watson - from the Phoenix school of excellence.
More than half the squad play in the ASB Premiership, which Milicich believes is a positive sign for New Zealand football.
''I believe the very best young players should be playing in the ASB Premiership as soon as possible, which is good for the player, good for the domestic clubs and a benefit for New Zealand football as a whole.''
The Junior All Whites will assemble in Auckland on March 12, with Howieson, Derby County defender Luke Adams and Oxford United goalkeeper Max Crocombe travelling back from Europe.
Crocombe and Perth Glory defender Storm Roux are new faces to most New Zealand football fans but Milicich has kept tabs on both for some time.
''We've been tracking Max and Storm for a couple of years now. Max is highly regarded at Oxford and someone they believe will kick on and play at a higher level.
''Storm developed through the Northern Football Federation system before his family moved to Perth, so he's not really a stranger to people in the game here.''
The Oceania under-20 draw has not been kind to the Junior All Whites, with the defending champion set to play four matches in a row before sitting out the final match day after receiving the last available bye.
''It's going to be really tough,'' Milicich said.
''It's set up for the best squad to win. I can't see anyone playing more than two games, so we've picked a side where every player has to be able to compete at the highest level they can.
''We can only play our four games and do the best we can in those four games and on the last game day we'll be at home. There's no final, so it's winner takes all.''
New Zealand's first game is against Papua New Guinea on March 21. It then faces Vanuatu, New Caledonia and host Fiji in consecutive matches every two days.
---
Junior All Whites
The squad
Goalkeepers: Scott Basalaj (Wellington), Max Crocombe (Oxford United).
Defenders: Storm Roux (Perth Glory), Bill Tuiloma (Birkenhead United), Simon Arms (Auckland City), Luke Adams (Derby County), Alec Solomons (Wellington), Liam Higgins (Manawatu), Kade Schrijvers (Manawatu).
Midfielders: Tom Biss (Wellington), Cameron Howieson (Burnley), Jesse Edge (Waikato), Louis Fenton (Wellington Phoenix), Justin Gulley (Wellington).
Forwards: Hamish Watson (Wellington), Tyler Boyd (Wellington Phoenix), Van Elia (Wellington), Ryan Thomas (Waikato), Joel Stevens (Otago United), Dale Higham (Manawatu).
---