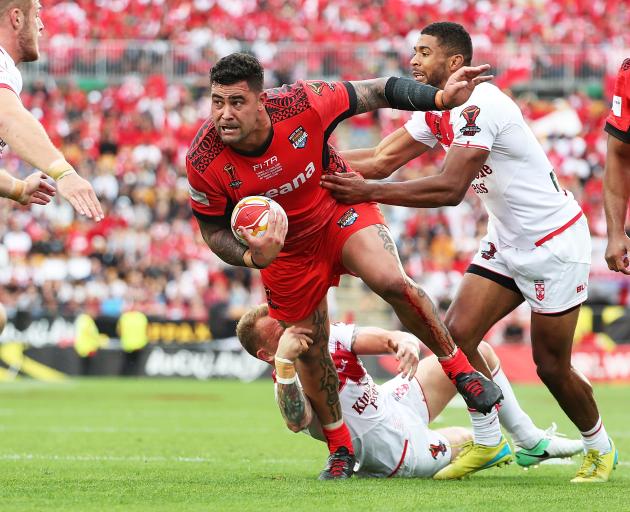 More than 27,000 people have signed an online petition calling for rugby league officials to explain why Tonga were not awarded a potential match-winning try in their World Cup semifinal against England.
The match officials refused to order a video replay after Andrew Fifita crossed the line near the end of Tonga's 20-18 loss in Auckland on last night.
On the final play Fifita received the ball 15 metres out, and hurled his 120kg frame at the England line. The ball jolted free as he was tackled by England's Elliott Whitehead - with Whitehead's hand appearing to strip the ball from Fifita's grasp.
The Cronulla prop played on - running through to force the ball - before pleading with referee Matt Cecchin to refer the incident to the video referee.
But Cecchin had ruled a knock on, and stuck to his guns, despite what was at stake.
Australia-based Tongan fan Vai'Ana Ta'ai started a petition on change.org with a single signature, and by Sunday morning had 27,013 supporters.
The petition staged: "Tonga v England. England claims a stolen win. To referees, it is just another day of work, but for the Tongan players, it is heart, soul and their world. Tongan players are not playing for money, but for their country, heritage and their families.
"The game was not a fair one, in fact, England knew they had not won. Referees need to be held accountable for their choices, and there needs to be a legal process to ensure games are scored with fairness and integrity - like the old days. Let us have an understanding and an explanation from NRL officials on why this final try was not counted."
Fifita was philosophical at the end of the match, but believed his play should have won the game for Tonga.
"I was happy with it as a try," said Fifita, as he stood outside a disappointed but proud Tongan dressing room, with songs and chants echoing from inside.
"But grounded or not, everyone knows the outcome."