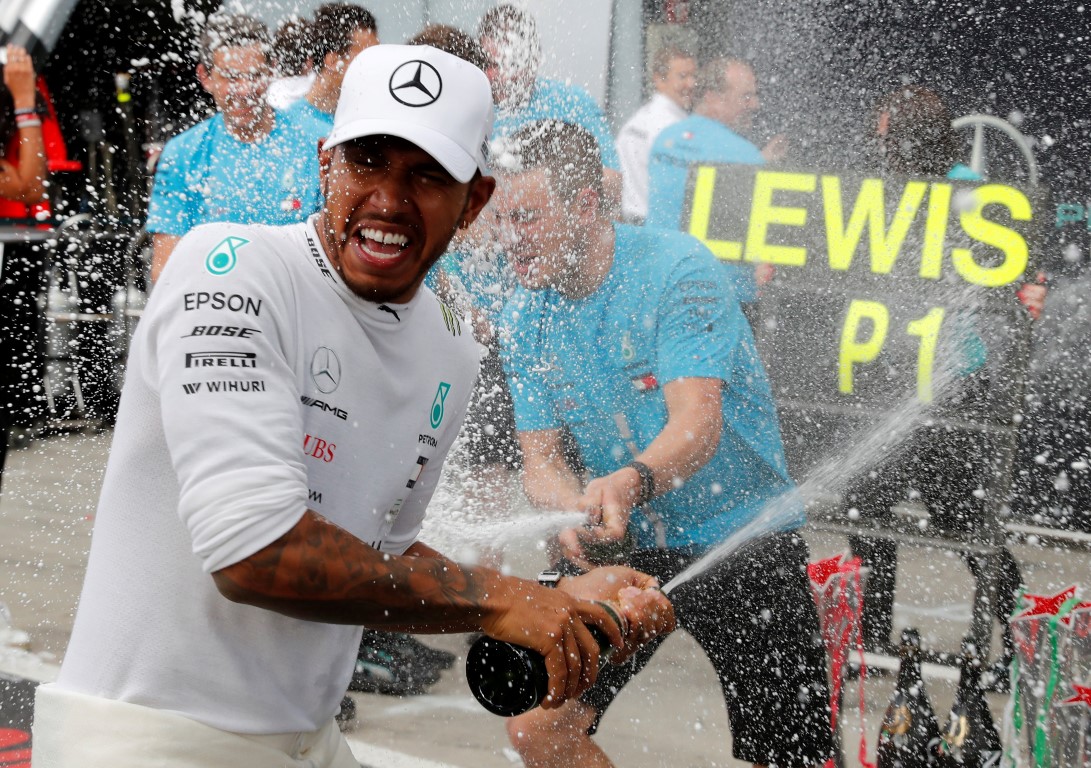 Formula One world champion Lewis Hamilton equalled Michael Schumacher's record of five Italian Grand Prix wins on Sunday and left Ferrari feeling the pain yet again in their own backyard.
The Briton and Ferrari's Sebastian Vettel clashed at the fourth corner of the opening lap, with the German spinning around before fighting back from 18th to fourth with a badly damaged car and all hope of victory gone.
Hamilton stretched his lead over Vettel from 17 points to 30 with seven races remaining.
Vettel's veteran Finnish team mate Kimi Raikkonen finished second, after starting on pole position and racing superbly, with compatriot Valtteri Bottas third for Mercedes.
The thrilling victory was a fifth in a row for Mercedes at Monza, the historic circuit inside a former royal park near Milan, and one of Hamilton's most successful.
"You are the man, you are the man," said Hamilton's engineer Peter Bonnington as he took the chequered flag. "You knocked that out of the park today."
"It was one of the most exciting of victories that I've had, that I can remember," Hamilton told reporters later.
For the Ferrari 'tifosi' it was a major let-down at the high-speed spiritual home of the sport's most glamorous and successful team, who last won there in 2010, and they did not hide their feelings.
"Today was so difficult. Whilst the negativity is never great, that's what powered me along. I actually accept it," said Hamilton, booed massively on the podium by the crowd flooding the main straight with their flares and flags.
"I love being here in Italy...the track is incredible, and it's a such an honour to win here in front of such a great crowd."
No space
While Vettel looked to be to blame for his own misfortune, he pointed the finger at Hamilton who had seen his chance and seized it in a move that could be crucial to the championship outcome.
"Lewis saw a little bit around the outside but he didn't leave me any space," the German told Sky F1 television of the collision. "I had no other chance (but) to run into him and make contact."
Others saw it differently.
"Sebastian Vettel cracked under pressure, it has to be said," commented 1996 world champion Damon Hill, with agreement from Hamilton's former team mate and 2016 champion Nico Rosberg.
"I think it was 100 percent Sebastian's fault. Lewis left him enough room," said the German.
Hamilton's sixth win of the season lifted him to 256 points, to his German rival's 226, but the fierce battle between the four-times world champions is far from over with Mercedes facing some tough races ahead.
Mercedes have 415 points to Ferrari's 390 in the constructors' standings.
Raikkonen had looked to be in with a chance of his first win in 108 races but the Finn, who responded to Hamilton overtaking him on lap four by promptly taking back the lead with a brilliant move, could not resist on worn tyres.
Hamilton, who pitted later and had fresher tyres when it mattered, passed the Finn again eight laps from the end.
"I think it (the car) was quick enough but unfortunately our rear tyres went," said Raikkonen, who at least had a fitting location for his 100th podium in Formula One.
"It was a losing battle from that point. We did our maximum," said the 2007 world champion.
Hamilton was also helped considerably by team mate Valtteri Bottas, who eked out his tyres before pitting to hold up Raikkonen and help the eventual winner close the gap.
The Finn and Vettel, who made two stops including a first one to replace a damaged front wing, both moved up a place at the finish after Red Bull's Max Verstappen was handed a five second penalty for pushing Bottas off on lap 44.
Vettel was back in the points by lap 15, helped by the safety car coming out immediately after his spin as marshals removed New Zealander Brendon Hartley's damaged Toro Rosso.
Verstappen was fifth with Romain Grosjean sixth for Haas and Esteban Ocon seventh for Force India ahead of team mate Sergio Perez.
Renault's Carlos Sainz was ninth and Canadian Lance Stroll took a much-needed point for struggling Williams in 10th.
McLaren's Fernando Alonso and Red Bull's Daniel Ricciardo both retired.