Two flying Otago riders topped the podium at the New Zealand junior motocross championships near New Plymouth at the weekend.
Grason Veitch (Dunedin) improved on his third placing last year to win the 8-10 years 85cc class, while Joel Meikle (Oamaru) rebounded from a serious leg injury to win the 13-16 years 85cc title.
It took three frantic days of racing to determine the winners at the championships, held at the Barrett Road Motorcycle Park over demanding, steep and rutted terrain.
Veitch (10), a Balmacewen Intermediate pupil, scorched to the top of his class with wins in each of the first three races.
Spills in his final two races frustrated the tyro but he still managed second place in both to claim the overall title.
Veitch, riding a KTM, had a taste of the ''very technical track'' in a club event three weeks ago and went north again aiming to win, father Dean Veitch said.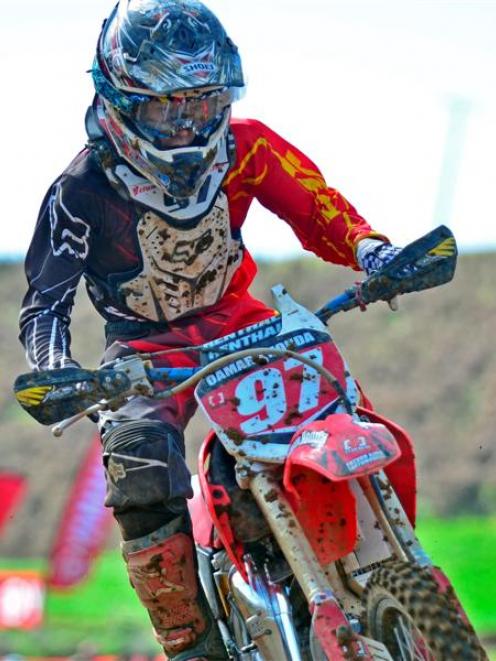 He finished second at the Woodville Grand Prix at Christmas and dominated South Island racing over the summer. Next step is hopefully the Australian national championships in September.
For Meikle (15), a year 11 pupil at Waitaki Boys' High School, victory was sweet reward following a difficult lay-off. He suffered a badly broken leg in a training accident in February last year, and later broke a collarbone. He has also been dealing with arthritis in his lower legs and fingers, for which he is still on medication.
Meikle, who has previously won South Island and North Island titles, was ''pretty happy'' to win his first national crown after just seven weeks back on his Honda.
He won all five races in his 38-strong field, despite five crashes over the weekend. He was 21 points clear going into the final race, when he clipped the starting gate and went from last to first.
Meikle had previously finished second (twice), third and fourth at the national championships. He said he was ''completely over motocross'' 18 months ago but was now motivated to stay in the sport.
Central Otago rider Bryn Gilbert was third in the 13-16 years 85cc class.