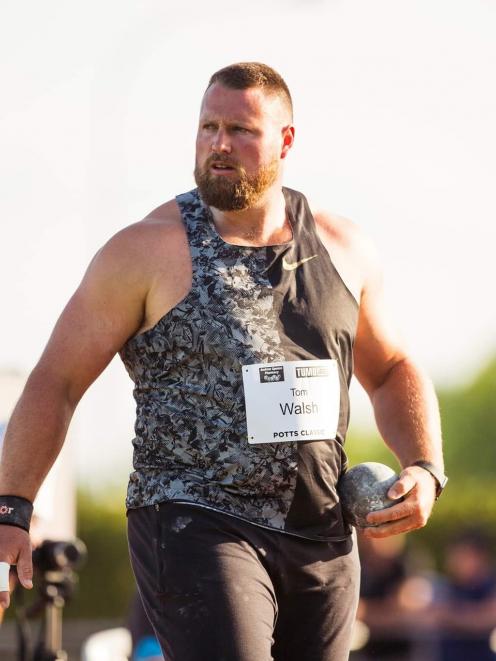 The Olympic Games were due to start this week but have been postponed until next year. In a short series, the Otago Daily Times chats to competitors and coaches about the year ahead. Jeff Cheshire catches up with shot put star Tom Walsh.
This was supposed to be Tom Walsh's big year.
Everything seemed to be lining up, the story falling into place.
Tokyo would be his second Olympic Games.
Four years ago, the now-28-year-old shot putter won bronze in Rio.
Since then he has added a world title, two indoor world titles and a Commonwealth Games gold to his name.
But then came a plot-twist and with it a change of narrative.
For Walsh, it was a case of making sure that remained a positive one.
"There was probably an initial fight with it," he said.
"A lot of the time it's the story you tell yourself about whatever you're doing.
"The story I tried to tell myself that worked for quite a bit of time was that it gives me another year to get physically ready and to have a big long build-up, which is awesome.
"It was tough, but I tried to tell myself as positive a story as what I could."
He has had to change his mindset and his goals.
That had been the hardest thing. He was used to having a key event to work towards every six months and it seemed a long way off knowing the Olympics were more than a year away.
That was particularly the case coming out of lockdown. He had enjoyed the first few weeks but the last 10 days were tough.
"I was quite down on things.
"I started to have the realisation coming out of lockdown that we're coming out of it, but the rest of the world is in a worse place than us.
"Just realising that I was not going to be able to go overseas.
"I knew that but it hit home around that time we came out.
"And realising I wasn't going to be able to go overseas and compete against the top guys, and that's why I do the sport."
However, he will have something to work towards.
Athletics New Zealand will host a handful of competitions in September for the country's top shot putters.
While not quite the Olympics or the Diamond League, there will still be a strong field, including Jacko Gill, who finished seventh in last year's world championships.
From there, Walsh was uncertain what competitions would be available.
It was a case of taking things as they came.
He was in a good place physically and the break had given him a chance to attend to some ongoing niggles.
His confidence was high, too.
The past four years had brought many successes and he was now comfortable on the big stage.
However, he knew that did not guarantee a gold medal.
"If you look at the world champs last year, I threw the farthest throw in 30 years in the first round and I got third.
"There's a bunch of guys who are capable of throwing world records and getting right up and around that.
"Obviously, we are going there to win, but knowing the guy that got fourth in Doha would have won every other world championship title.
"It just shows you how deep and strong shot put is.
"But when you do win, it's just an amazing feeling and it's more worthwhile when you do because its tough."