New Zealand world No2 Paul Coll moved into the final of the PSA World Tour Finals for the first time in his career after overcoming the challenge of England's Mohamed ElShorbagy in straight games in the last match of semifinals night.
Coll had struggled a little bit recently after reaching the summit of the world rankings, but he put in an almost flawless performance, forcing the Englishman into making too many errors.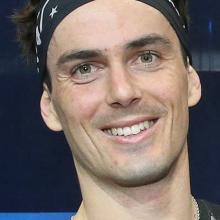 Coll won the match 11-6, 11-5 in 31 minutes.
ElShorbagy was unable to keep the ball out of the tin, unlike his usual high-quality game, but the Kiwi was able to also restrict the opportunities the world No3 had, and he took the win in just over half an hour to set up a meeting in the final with defending champion Mostafa Asal.
"Obviously if I get the win tomorrow, then it will be quite a tidy celebration back in New Zealand next week, that's for sure," Coll said.
"He [Mostafa Asal] played bloody well tonight. I thought he really controlled the game, found his back corners well and he didn't give Ali much on the volley."
"It's already my biggest payday in terms of prize money so I am looking forward to that."
--  Staff Reporter