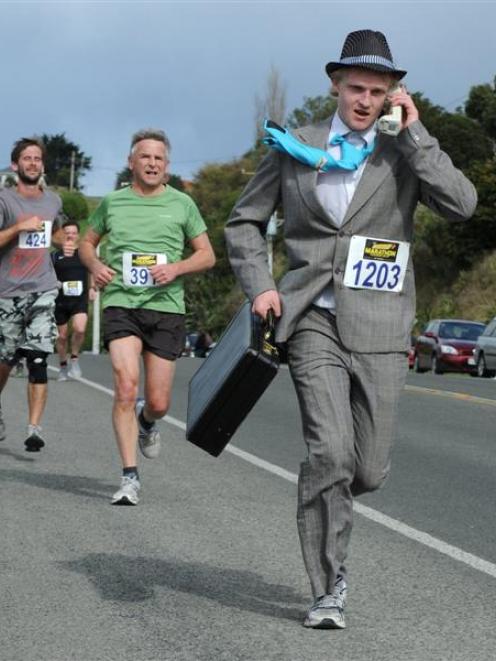 Guide to the Glasshouse
Welcome, everyone. Welcome to New Zealand's first and greatest city.
Enjoy the stress-free experience of driving in "rush" hour. Marvel at our lovely buildings, our spectacular scenery, and our range of delicious eateries. Gasp at the two-bedroom houses on the market for under $950,000.
And, of course, behold our mighty new stadium. Some things first-time visitors need to know about the covered colosseum:
1. It's UNBELIEVABLE. Awesome. Extraordinary. All those words and more. It is almost certainly the only venue in New Zealand that actually takes your breath away - but don't panic: there is oxygen inside the big tent.
2. Awesomeness costs. A lot. Dunedin ratepayers stumped up the biggest share of the $200 million, er, $250 million it took to build the House of Panes. We weren't all delighted about that.
3. That's natural grass (with a little bit of other stuff mixed in) growing under the fixed, transparent roof. A world first, apparently. Don't even think about walking out on to it, though, or an angry little bloke called Coryn will chase you with a stick.
4. It can get REALLY LOUD inside the Glasshouse. The sound bounces back off the roof.
5. Dunedin had snow this week but, again, do NOT panic. It is warm(er) inside the dome.
6. The first major rugby game played inside the stadium was between North Otago and West Coast. A couple of the Coast front-rowers looked like two Springboks glued together.
7. They reckon a good rugby player can hoist a ball 30m off the boot. The internal height of the main roof, in the middle, is 37m.
Record-setting test
This is the 40th All Black test in Dunedin - 38 at Carisbrook, one at Tahuna Park, now one at the Glasshouse - and the latest an All Black test has been played in the city.
It beats, by one day, the previous record. In 1946, the All Blacks beat the Wallabies 31-8 on September 14.
That was the first All Black test after World War 2. Not surprisingly, an entirely new All Black XV was selected.
Those were the days
The Springboks will be in New Zealand for all of six days - three in Auckland, three in Dunedin.
It's too easy to bemoan the death of the traditional tour in modern rugby, but there is still something romantic about the notion of an international team spending weeks in a country, and playing in some far-flung towns.
In 1994, the Springboks played 14 games in New Zealand.
Brilliantly, they opened with a game against King Country in Taupo.
The Boks even played Hanan Shield Districts (South Canterbury, Mid Canterbury and my beloved North Otago) in Timaru. The Hanan Shield team had future Otago favourite Brendan Laney at centre, future North Otago coach Barry Matthews at halfback, and one player from the Old Golds, Kurow winger Hayden Hunt.
It is simply unimaginable now to have a North Otago player on the same field as the Springboks. Progress is not always a good thing.
Schoolboy sense
Congratulations to this very special Otago Boys' High School team that has qualified for today's national First XV final.
But what a shame - what a crying shame - the match is not being played in Dunedin, perhaps as a curtain-raiser to that other rather important game in the city.
Why should St Kentigern College get home advantage?
You certainly have to feel sympathy for Otago Boys', which has been the away team for most of its major clashes this season.
Perhaps Sky Television has had a say. But won't all its top technicians and gear already be in Dunedin?
Finally, if the stadium turf had been an issue, the schoolboy game could have been scheduled for the day AFTER the test.
No more Newby
Happy trails to Craig Newby, the much-respected former All Black, Highlanders and Otago loose forward.
Newby announced his retirement this week due to a nagging knee injury.
The 33-year old played 29 games for Otago after transferring from North Harbour, made 74 appearances in Super rugby, and earned three All Black jerseys.
Newby rounded out his career with 84 caps for the Leicester Tigers. He was part of premiership-winning squads in 2009 and 2010, and captained the side in the 2011 final.
Totally committed on the field, and a salty character off it, Newby tweeted: "It was a fantastic journey and I would not change a thing. Well, maybe look after the knees better."
Newby was keen to stay working in rugby in England, the BBC reported. A coaching career appealed.
I'm unashamedly a fan. Not only because he married a North Otago girl, but because of a famous interview on live television during which he said: "Now maybe Hayden Meikle will write something nice about us in the ODT."
The football draft
The second major Otago Daily Times sporting draft has finally begun. Colleagues, Twitter friends and one actual footballer (Patrick Fleming) have joined The Last Word for an epic English Premier League fantasy season.
Eleven full draft rounds, from a pool containing players from all the world's major competitions, were conducted over a 10-day period.
The Fifa 12 rosters have been updated on the Xbox 360 and we are ready to start simulating.
Stay tuned.
Going global
Smarter ice hockey brains than mine will have firmer opinions on the controversial goal that sealed the New Zealand league final in Queenstown.
Canterbury import Valery Konev produced a radical move during the shootout, doing a 360deg pirouette before scoring the goal.
The Southern Stampede argued a key rule - that the puck must be in continuous motion towards the goal - had been breached, but to no avail.
The story, with accompanying video, made it to the Yahoo website this week. Writer Greg Wyshynski informed his readers (sigh) that "the latest dust-up comes from the land of sheep, Lord of the Rings exteriors and Australian personality conflict".
Our Val
Ageless Otago runner Val Muskett has finished 139th at the world 24hr race in Katowice, Poland.
She covered 183km, 969.53m in that time. She was the second New Zealand woman home and the team finished 14th.
Birthday of the week
Italian cycling great Fausto Coppi would have been 93 today.
"Il Campionissimo" - the champion of champions - won the Tour de France twice and the Giro d'Italia five times.
An Observer feature a few years ago reported Coppi was open about his drug-taking. His preferred method of ingestion was swilling "la bomba", a mix of caffeine, cola and amphetamine pills.