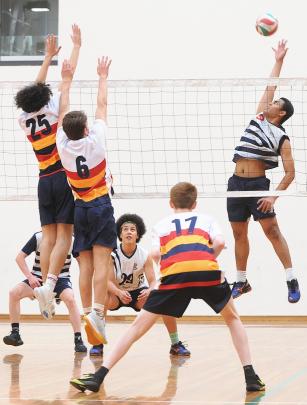 Volleyball is taking off in southern schools and is fast running out of court space.
The sport has always been around, although it was seen as something of a niche activity. But it has grown in size over the past few years.
In last year's secondary school sport census, there were 1142 volleyball players in Otago, making the sport the fourth largest in playing numbers in the province.
The Otago senior school championships were played over the weekend at the Edgar Centre and there was a good turnout from schools from around the region.
Otago Volleyball administrator Terry Brewerton said the sport had grown quickly over the past few years and there were now 130 school teams in Dunedin - 30 intermediate school teams and 100 high school teams. The sport also had an active representative programme.
The sport was especially popular with girls.
It was an athletic, dynamic sport where players could leap about and show their skills. There was a real team aspect to the sport and it did not involve any collisions, which meant a lower chance of injury.
The sport also did not include a lot of running, which for many pupils these days was an added bonus.
It was played indoors, mostly at the Edgar Centre. This helped the sport's popularity as the game was always on.
Brewerton said such was the popularity of the sport, organisers were looking at ways to secure more courts around the city.
In the championships over the weekend, the boys' division was won by Otago Boys' High School, which beat King's High School in the final. Bayfield High School finished third.
The Otago Girls' High School A team won the girls' final, with Taieri College second and Otago Girls' High School B third.
Teams will head to the national schools championships in Palmerston North in a couple of weeks.