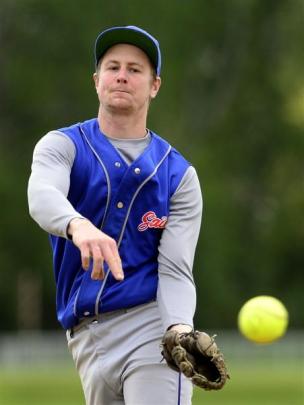 Another day, another three one-run thrillers in the Dunedin premier men's competition.
As the local softballers basked in uninterrupted sunshine for the first time this season, scorers and supporters were kept on their toes with a series of tight finishes.
Ellis Park beat Dodgers 11-10, Dodgers beat Saints 14-13, and Cardinals beat Saints 4-3. Only Ellis Park's win over Cardinals (16-11) broke the run, and even that game was a close affair most of the way.
Rising star Will Meiklejohn was the stand-out in the Ellis Park-Dodgers clash with a spectacular three-run, walk-off home run in the bottom of the seventh inning.
Cam Watts had given Dodgers a rollicking start with a three-run homer at the top of the first inning.
Sean Martin and Krizevac Tuitea had run-scoring doubles as Saints rallied to a 4-3 lead, before Watts slapped his second dinger out of the park.
Ryan Williams responded with a homer for Ellis Park, Watts continued his hot form with a run-scoring double to rebuild Dodgers' lead, Williams doubled in another run, and Tyrone Davies tripled in a run as the score fluctuated.
Dodgers took a handy 10-8 lead into the bottom of the seventh.
Pete and Adam Mathieson both walked, before Meiklejohn's epic blast.
Watts was back in sublime - if not ridiculous - form in Dodgers' win over Saints, smacking four doubles (with five runs batted in) and a solo homer.
Dodgers led 5-2 in the middle of the third innings, but Saints quickly levelled the scores, then piled on five runs in the fourth.
Watts and his team-mates responded with seven runs over the final two innings, and Saints' single run in the bottom of the seventh was not enough.
A two-run Lyall Scott homer provided the early highlight of the Cardinals-Saints clash, which was locked at 3-3 for three innings. Steve Willis scored on a Corey Parker single to seal it for Cardinals.
The 27-run Ellis Park-Cardinals match featured a two-run homer for Steve Hill (Cardinals), and Williams' second homer of the day for Ellis Park.
Cardinals held a 10-9 lead going into the final inning but Ellis Park pounded out seven runs, including two off a Williams single.