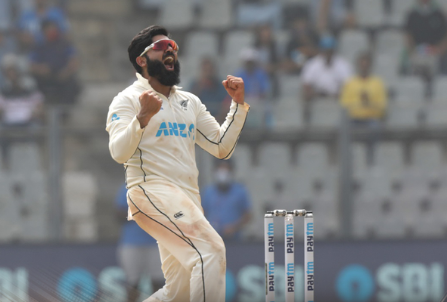 Sport can be a cruel beast. Just ask Ajaz Patel, who joined the ranks of the immortals with 10 wickets in an innings only to be part of a Black Caps team utterly destroyed in the second test.
The Otago Daily Times revisits 10 extraordinary performances that went unrewarded.
Ajaz Patel (cricket)
We have to start here. The Black Caps spin bowler became just the third player in the history of test cricket to take all 10 wickets in an innings. It was an unfathomable performance but it came wrapped in a crushing team defeat. And to rub tabasco sauce into the wound, India's Mayank Agarwal was named player of the match for his knocks of 150 and 62.
Nathan Astle (cricket)
''Bugger it. I'm going for it.'' That must have been what went through Astle's mind moments before he launched an unprecedented hitting spree against England in Christchurch in 2002. The right-hander clubbed the fastest double century in the history of the game in a brazen assault. He slapped 222 from 168 balls. Glory for the vanquished but victory went to England.
Tyson Gay (athletics)
Had his career not coincided with Usain Bolt, Gay would likely be one of the most decorated sprinters in history. The 2009 world championships was the epitomy of that. The American ran the sixth-fastest 100m of all time in the final, clocking in at 9.71sec. Yet he still lost by 0.13sec. Bolt, at the peak of his powers, finished in a near-untouchable world record of 9.58sec.
LeBron James (basketball)
No athlete in history has been expected to carry some incredibly average teams the way James has. In the 2018 NBA finals, he posted 51 points on 60% shooting, to go with eight rebounds and eight assists. His team still lost to a dominant Golden State Warriors team. Or take the 2015 finals, when he led both the Cavaliers and Warriors in points, rebounds and assists, in a losing effort. It would be hard for him to do more, but his detractors still point to both as reasons he is not the greatest.
Harvey Haddix (baseball)
Haddix pitched what is considered one of the greatest games of all time for the Pittsburgh Pirates in 1959. He was perfect through 12 innings. Unfortunately, his team-mates were unable to score on any of their 12 hits. A fielding error in the 13th inning finally got a Milwaukee Braves hitter on base. He was brought home to deny Haddix a win in a near-perfect performance.
Irene van Dyk (netball)
The South African-born star is widely considered the best shooter in the history of the game, but would have won bupkis without switching allegiances. She orchestrated a massive upset against the Silver Ferns at the 1995 world championships and was the talk of the tournament until the South Africans fell short in the final. Even the world's best player needs a little help now and then. She got that when she moved to New Zealand in 2000. With van Dyk in the shooting circle, the Silver Ferns won the world title in 2003.
Jonah Lomu (rugby)
Everyone remembers his four-try effort in the 1995 World Cup semifinal. What tends to be forgotten, thanks to a monumental collapse against France, is how dominant Lomu was in the same game four years later. The big man ran through seven defenders to score his first try just before halftime, before cutting through a defence that barely even tried to tackle him just after the break. That put the All Blacks up 24-10. With that scoreline and Jonah in such form, we all thought they were in the final. How wrong we were.
Carl Lewis (athletics)
Lewis had not lost a long jump competition in 10 years when he lined up for the 1991 world championships in Tokyo. That looked set to continue, as he posted four jumps over 8.80m, including a jump of 8.91m — a wind-assisted mark, but the best in history. That lasted just minutes, as fellow American Mike Powell pulled out a wind-legal 8.95m world record in response — a record that still stands.
Thierry Dusautoir (rugby)
Most Kiwis will remember the French flanker for his 38-tackle effort in the 2007 World Cup quarterfinal upset win over the All Blacks. He was equally influential in the 2011 final in Auckland, though. The captain made 22 tackles, scored a try and was named man of the match — and ultimately world player of the year — as France came within a point of snatching the World Cup from the All Blacks.
Kapil Dev (cricket)
If anyone can relate to how Ajaz Patel must be feeling, it is the great Indian all-rounder. He tore through the all-powerful West Indies side with a career-best nine for 83 in Ahmedabad in November 1983. He could count Gordon Greenidge, Viv Richards and Clive Lloyd among his victims. And he bowled unchanged for nearly 31 overs. Staggering effort but India, chasing 242 for the win, was bowled out for 103.