Otago sports figures will be far and wide this Christmas - but they will all be dreaming of success in 2013. The Otago Daily Times sports department asked some of them these three questions:
1. Where will you be and what will you be doing for Christmas?
2. What was your highlight of 2012?
3. What are your hopes for 2013?
---
Ross Dykes
Otago Cricket Association chief executive
1. ''I'll be at a beach called Omaha, which is north of Auckland, having Christmas with my family. My third boy is getting married on December 21 up there. I'm looking forward to it.''
2. ''Having two children getting married, I'd say. They've found partners who I think will be great.''
3. ''I think a title for the Volts, the Sparks and the Highlanders.''
Janine Southby
Southern Steel coach
1. ''We'll be at my sister's place for Christmas Day with the family. Then we are going camping at Lake Ruataniwha with family and friends.''
2. ''Obviously that first win against the Magic was pretty cool for the Steel. But spending time in the Ferns environment [assisting coach Wai Taumaunu] was good way to finish the netball season for me.''
3. ''I'm looking forward to the Steel putting on some great performances and winning some games.''
Colin Slade
Highlanders first five-eighth
1. ''Back in Christchurch spending time with family. Family lunch at my parents' house and dinner with my wife's family.''
2. ''Getting married to my lovely wife, Emma, at the start of the year and our honeymoon to Mexico in June.''
3. ''To get back playing injury-free rugby and win the Super 15 with the Highlanders.''
Mark Dickel
Otago Nuggets guard
1. ''I will be at my home in St Clair with my family. On Christmas Day I'll be watching whatever sport is on - most probably basketball of some kind.''
2. ''Good question. I couldn't even give you a corny answer. I tend to think kids are a highlight when they are born. But unless something is super special I don't think it is worthy of a highlight. What would a highlight be?'
3. ''I would like to think we can get more wins. I'd like to think we can get 10 to 12 wins.''
Andre Klein
Otago Racing Club chief executive
1. ''I'll be in Wanaka with the family and I'll be doing the form for the Wingatui Boxing Day meeting.''
2. ''Going to Royal Ascot and getting to watch Frankel and Black Caviar; and the Cromwell meeting on December 2 was the best I've been to in New Zealand.''
3. ''I'd like to see Cee Gee Jay, the horse I part-own, win the Grand National Hurdles, and I'd like to see the Otago Racing Club keep going the way it has been.''
Jill Johnson
Otago softball operations manager
1. ''I'm looking forward to spending a relaxing Christmas at home with all of my family.''
2. ''My highlight for 2012 would be that Saturday we played softball in sunshine! Seeing all the kids on the park always brightens my day.''
3. ''My hope for 2013 is that we will see the Black Sox regain the world title in March.''
Alison Shanks
World champion cyclist
1. ''Down at our family crib at Harington Point with our family and Craig. It's going to be very relaxed and we will be enjoying a roast lamb, a couple of Emersons and just enjoying some down time after a full-on year.''
2. ''It's obviously been a big year when I have to say the London Olympics were not my ultimate highlight. The Olympics were amazing, but for me personally the highlight of the year and my career so far was winning the world championships in Melbourne in April. Craig was track-side calling my race, and my family and friends were in the stands cheering me on. To be able to stand on the top step of the podium and share the win with them all was very special.''
3. ''Above all, a happy and healthy year and a nice sunny day in January for our wedding would make the perfect start to the year.''
Jamie Mackintosh
Highlanders prop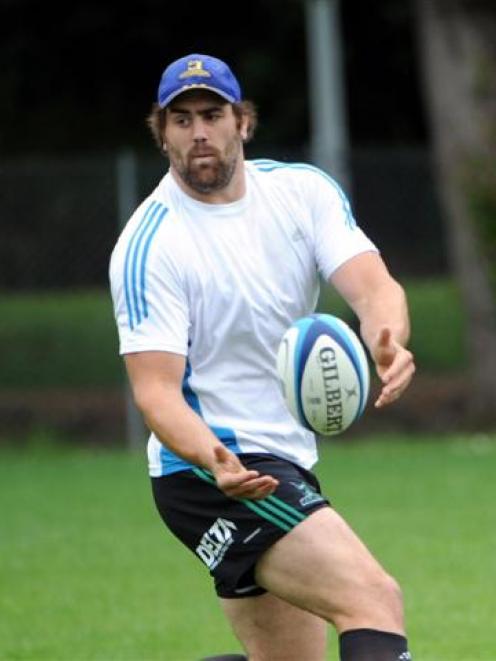 1. ''I will be in Wanaka with family. We have a big breakfast about 9.30am and then open up presents. Then we have a big feed of lamb, ham, potatoes, the works. Then might have a bit of a lie down before we have the mandatory game of cricket or golf.''
2. ''Playing 50 games for the Highlanders was pretty special, and beating the Waratahs. But we had a pretty good start to the Super 15, beating the Chiefs in Hamilton and then coming back here and beating the Crusaders in our first game at the new stadium.''
3. ''One word - playoffs.''
Geoff Knight
Roxburgh standardbred trainer
1. ''We'll be at home with all the family. We've got family from down south and Auckland coming down, but it'll be a pretty relaxing day, with ham, roast beef, chicken and plenty of beverages.''
2. ''Pembrook's Delight winning the 4yr-old diamond division at the Harness Jewels. That was an unbelievable feeling that hasn't left us yet.''
3. ''We just want to continue winning races for our great owners. Whether it's a maiden at Forbury Park, or the Harness Jewels, we just love winning races for them.''
Robbie Thomson
Bowls Dunedin president
1. ''My Christmas Day in Dunedin will begin with a training session at the gym, followed by a visit to my garden to take vegetables out to the family farm at Allanton. We will have a traditional Christmas dinner of roast lamb, goose, carrots and potatoes. It has been a family tradition since 1890.''
2. ''My highlight of the year was to watch on television as the New Zealand rowers won five medals at the London Olympics. I was also proud of the Logan Park High School pair of Jacobi Kohu-Morris and Callum Horwell, who retained their New Zealand secondary schools title. From a personal view I was proud to lose 15kg by going to the Body Synergy gym.''
3. ''Bowls has been affected by the downturn in the world economy and there has been a 4.3% drop in membership each year since 1981. My hope is to increase the grassroots membership. The 8% who play competitive bowls are well looked after but we must look after the 92% of grassroots bowlers better.''
Deidre Helm
Athletics Otago life member and record steward
1. ''We will be spending Christmas Day with my husband Graham's family at Naseby and will have another Christmas meal at our holiday home at Clyde on Boxing Day. It will be a lazy day for me. I like to sit down and do nothing.''
2. ''It was hard work but my highlight was to help stage the New Zealand secondary schools athletics championships at the Caledonian Ground when everything worked like clockwork.''
3. ''Next year I want to help Athletics Otago continue to bring through young athletes to represent the province. It is something we do well in Otago. I also want sprinters like Usain Bolt to remain dominant on the international scene.''
Richard Kinley
ORFU general manager
1. ''Travelling down to Gore to have lunch with family. Then probably some backyard cricket with the kids in the afternoon.''
2. ''That the board had the confidence in me to move my secondment to be the permanent general manager. And the way the community got behind Otago rugby and the fact the teams have performed, right from the age-groups up to the ITM Cup team.''
3. ''To build on what has been done in the past six to seven months. A lot of hard work has been done but there is still plenty more to be done.''
Tom Wood
Race commentator
1. ''I'll be spending the morning and early afternoon with family around Hamilton and Cambridge, then I will head to Auckland to catch a plane to Nelson, then drive to Westport to call the Boxing Day races.''
2. ''Getting to call I Can Doosit at Motukarara and Addington over Easter.''
3. ''Keep doing what I'm doing; keep improving and see where it takes me, and keep calling good horses.''
Ryan Martin
Otago Boys' High School First XV coach
1. ''My Christmas Day ritual is to start the day with a surf at Smaills Beach before taking my family to my mother's place for a Christmas dinner that includes turkey.''
2. ''The Otago Boys' High School grand slam of six wins in interschool games. It was very special for the school and has only been done six times before. I was also pleased that the First XV made the final of the national secondary schools competition. It was only the second time in the school's 149-year history.''
3. ''I want the First XV to show consistency and maintain its place in the top bracket of New Zealand secondary school rugby. I'd also like the Highlanders to do well and my daughter Courtney to settle into her first year at Otago Girls' High School.
Richard Murray
Otago United coach
1. ''Touring through Singapore and Vietnam with family.''
2. ''The Olympic Games.''
3. ''That America finally adopts stricter gun laws and Otago United live up to their potential.''