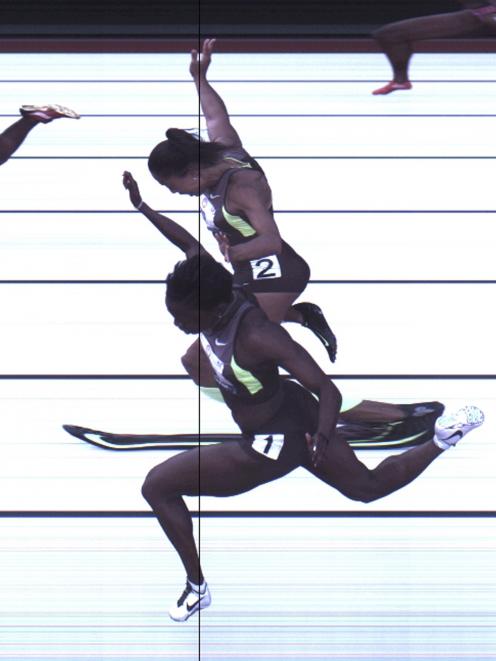 Jeneba Tarmoh has withdrawn from her scheduled 100 metres third place runoff against Allyson Felix for a place on the US Olympics team.
Tarmoh and training partner Felix had been due to run on Monday after a dead heat in the 100 metre final at the Olympic trials on June 23.
USA Track & Field (USATF) officials said Tarmoh had conceded her 100 metres team spot to Felix, who will join trials winner Carmelita Jeter and runner-up Tianna Madison in the event at the London Games.
"I understand that with this decision I am no longer running the 100m dash in the Olympic Games and will be an alternate for the event," Tarmoh said in an email sent by her agent Kimberley Holland to USATF.
"As an alternate I understand that I will be asked to run if another 100m runner decides not to for personal reasons, and/or on the 4x100m relay."
Felix, who is also in the relay pool and will run the 100 and 200 in London, said the situation with the tie had been difficult for everyone involved.
"I wanted to earn my spot on this team and not have it conceded to me so I share in everyone's disappointment that this runoff will not happen," the Olympic 200 metres silver medallist said in a statement.
Tarmoh was originally named as the winner of the final 100 place on the US team for the London Games but officials declared a dead heat after reviewing the photo finish.
"I was robbed, I went to bed so happy then I woke up to do something that I did not want to do at all," Tarmoh told reporters on Sunday after USA Track & Field (USATF) announced there would be a runoff.
"I was pushed into a corner. They said if you don't make a decision you give your spot up."
The tie had to be broken because a nation can have only three entrants in each event at the Olympics.
"We are disappointed that Jeneba has changed her mind regarding her position on the Olympic Team," USATF president Stephanie Hightower said. "We all worked hard to reach a consensus on the tiebreaker, but we know that Allyson, Carmelita and Tianna will represent Team USA well."