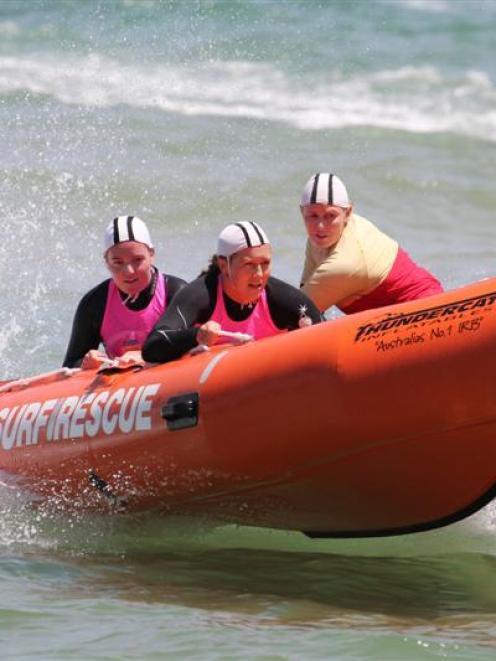 You might say they are getting greedy but few could begrudge the talented Laughton sisters their latest piece of silverware.
Steph (25) and Carla (28) claimed a world inflatable rescue boat title on behalf of the St Clair club at the world championships associated with Rescue 2012 in Adelaide on Sunday.
With Rachel Craythorn on board as a patient, the sisters won gold in the open women's tube rescue at Glenelg Beach.
It continues a remarkable period of success for the Laughtons, who have won New Zealand titles in the pool, on the beach and in IRB events, and can now call themselves world champions.
"It's a pretty amazing feeling," Steph Laughton said from Adelaide yesterday.
"We've got a lovely gold medal to bring home."
The tube rescue involved the Laughtons scorching out to an off-shore buoy, with Steph at the controls.
Carla then swam 25m to "rescue" Craythorn and bring her back to the boat, followed by the quick trip back to the beach.
"We had an awesome start and probably could have had it in the bag," Steph said.
"But our pick-up didn't go so well. We were actually worried we would finish as low as third."
Elation mixed with frustration as the Laughtons reflected on a campaign that might have been even better.
They were part of the St Clair crew (Craythorn and Natasha Scott were the other members) that finished eighth in the mass rescue and 10th in the IRB rescue.
"Motor failure both times. We were so gutted," Steph Laughton said.
"We think we would definitely have won another gold medal if we'd had a bit more luck."
The sisters are staying in Adelaide for a few days, then heading to the Gold Coast.
Their next event of the summer is the eastern regional championships at Ohope Beach on December 8-9.