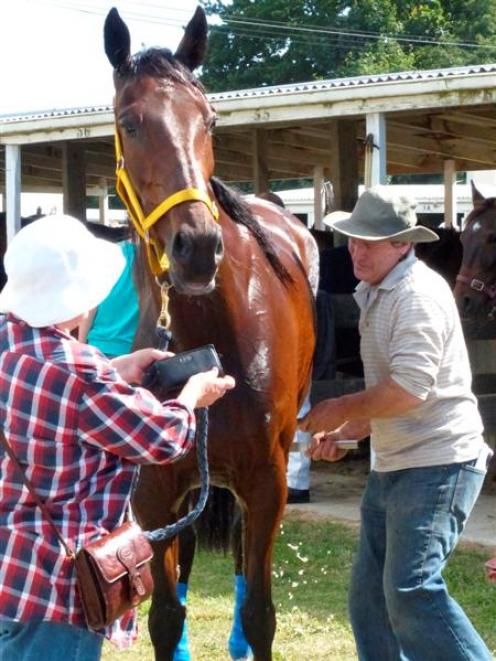 Portobello trainer Steve Ashton has no hesitation in naming yesterday's Waimate Cup winner, Better To Be Bad, as the best horse he has trained.
Ashton has lived in Portobello for about 35 years and has been training for the last 25 of those, picking up multiple wins with Sunnivue Son and Sunnivue Impulse. Sunnivue Ted completed a dream day for Ashton yesterday, when he won the feature trot immediately after the Waimate Cup by 1 lengths.
Better To Be Bad, a Badlands Hanover mare, was not quite the finished product when she first started racing for Ashton and co-owner Miles Notman, along with co-owner and breeder Gavin Chin.
''It took about five starts for her to learn how to race and from there on, she's gone from strength to strength,'' Ashton said.
The 5yr-old was having her 16th start yesterday, and it was clear any racing immaturity was behind her as she cleared away from Live Lea to win the $14,000 feature by 2 lengths, storming home in 28.2sec over the final 400m.
''I expected it with the way she had been working, but you just don't know with racing,'' he said.
''She's got a big future.''
The heat at Waimate has altered Ashton's plans for the near future with the mare.
''If it wasn't as hot today, I would have gone to Wairio [at Winton] next week, but it's just too hot.''
A change of environment and gear worked a treat with Armadale VC, who justified his favouritism in the Royal Tavern Pace.
The 5yr-old Washington VC gelding was with Leo O'Reilly for his first 11 starts, and Nina Hope, who co-trains with husband Greg, said the beach training had suited Armadale VC - even if he did not show it at first.
''We've given him a couple of trials, and he's just gone good - nothing too startling,'' she said.
''We put the the sliding blinds on him today, and that seemed to help him.''
Armadale VC pushed forward from the tail of the field at the 1000m mark and slotted into the one-one when Beaudiene Beckham came round to give him cover. Ricky May, recording one of his three wins for the day, pulled Armadale VC out in the straight to wear down leader Flyalong Falcon.
The Hopes will probably include Armadale VC in the team of horses they take to the West Coast for the Christmas circuit.
By Matt Smith.