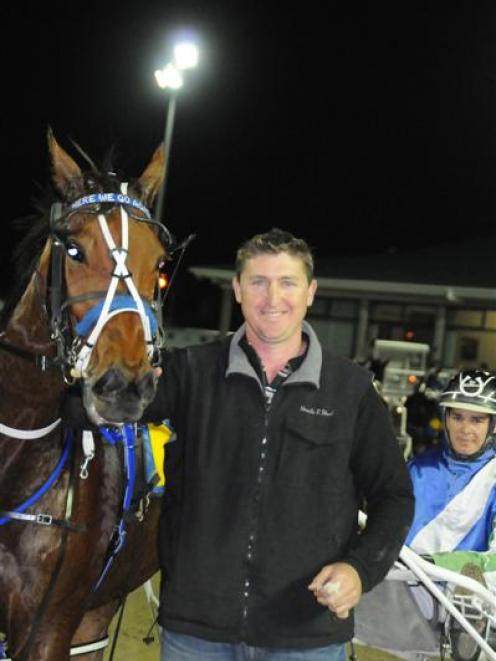 Burnham trainer Jamie Gameson is eyeing a profitable trip south tonight with two big chances in feature events at Forbury Park.
Gameson, who has had five wins so far this season, will field the well-performed Here We Go Again in the first race, while in the mobile pace over 2200m later in the night, the highly regarded Rebateable will line up as a strong chance.
Rebateable is fresh off a nice win at Forbury Park in her last start and Gameson said she had come through that well.
"Everything went her way last time and she went super. It all seems good with her and she has settled well after the win," he said.
"The main thing for her is with Dexter [Dunn] on, she likes to lead in the field. She is a nice, genuine horse and as long as she gets to the front, she is in with a strong chance."
Rebateable dictated the race last time out at Forbury Park, running away from the field and winning by nearly five lengths.
Rebateable will be set for the Christmas circuit around the South Island.
Her biggest opponent tonight is likely to be Leif Erikson, who is freshened up for this race.
The Westwood Beach-trained 5yr-old had a disappointing run last start out at Forbury Park but has been spelled for a couple of months and should be better for the rest.
Cullen's Finest is also a chance but may find it tough going against some better-quality horses.
Gameson has been pleased with Here We Go Again after she had most of the winter off.
She had had three workouts on her return, placing second in the first two and then winning at Motukarara.
"She was pretty impressive in those workouts and she did a lot of good work. It can just be a wee bit tricky at Forbury with a 1700m race and the tight turns. We'll just see how it all plays out."
With just seven horses lining up, it may be about staying with the pace. Tim Williams has the drive.
Here We Go Again won a group 2 race at Ascot Park last year so she knows how to race, but will face some tough opposition from the Cran Dalgety-trained For The Ladies.
The 3yr-old had an impressive return to Forbury Park after a few months away, winning by more than seven lengths earlier this month.
Donostia is a chance for Mosgiel trainer and Dunedin councillor Syd Brown in a mobile pace for 3yr-olds.
Brown said Donostia was gradually improving and he hoped this time the run would get her home.
She would be set for the Christmas circuit, although that depended on how she came through tonight.