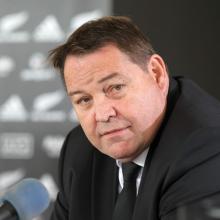 All Blacks coach Steve Hansen isn't buying his Springboks counterpart talking down the home side ahead of Sunday's final Rugby Championship clash.
The All Blacks handed South Africa a resounding 57-0 thrashing in Albany last month and following his side's 27-27 draw with Australia on Sunday, it seems Springboks coach Allister Coetzee has all but resigned to the fact his side will lose to the Rugby Championship winners once again.
"We will prepare to win, but the reality is that people who believe the Springboks can beat the All Blacks in Cape Town, after just over three months together, are living in a fools paradise," Coetzee told media.
South Africa go into Sunday's clash at Cape Town having beaten the All Blacks just once in their last 11 clashes, with the previous three defeats by at least by 28 points or more.
Hansen however says Coetzee is just trying reverse psychology on his players.
"Isn't it a beautiful way to psych his own team up?," the All Blacks coach told media overnight.
"It's reverse psychology. You guys believe it if you want to, but we won't be."
Hansen said the All Blacks won't be taking the match lightly despite having already wrapped up the Rugby Championship before even taking the field in Argentina over the weekend.
"If you know the All Blacks, you'll know they're under pressure all the time to win and win well so it doesn't change anything there. The fact we've won the Rugby Championship is obviously pleasing but we're playing on of our greatest foe and one with a lot of history and one that we have a lot of respect for. So it won't change how we prepare and we're looking forward to the game."
The All Blacks haven't played at Cape Town's Newlands since 2008 when they won 19-0. Hansen however is not worried that a small number of his squad would have experienced a test at the ground.
"They're well-traveled and well-experienced in playing...it's just a rugby field. Same size, on grass. Everything will be alright."