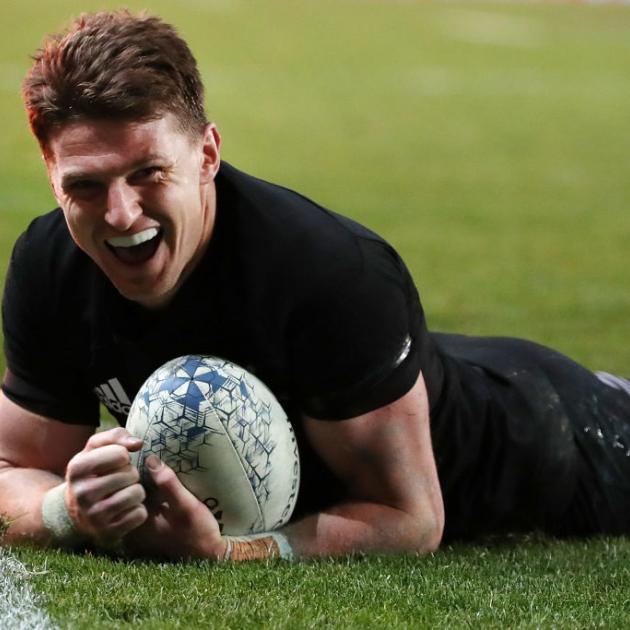 New Zealand Rugby boss Steve Tew has backed All Blacks coach Steve Hansen's plea for more government assistance to retain players from the clutches of wealthy overseas clubs and highlighted Beauden Barrett as a player at risk.
The All Blacks first five-eighth scored four tries and 30 points in total in a stunning individual performance as his side retained the Bledisloe Cup on Saturday in Auckland with another demolition of the Wallabies, and has already been targeted by French clubs and their millionaire owners.
Barrett is off contract after next year's World Cup in Japan and those owners will probably be even more interested after watching his latest test.
Hansen tiptoed along a controversial line - although some would say he bulldozed through it - afterwards at Eden Park when he said he had spoken to Finance Minister Grant Robertson, who attended the 40-12 victory with Prime Minister Jacinda Adern, about providing financial support to the All Blacks so they could retain their talent.
Tew has doubled down on that assertion on a conference call to New Zealand media.
"We've just refreshed our long-term financial projections and we continue to spend on average somewhere between $5-$7 million a year more than we earn and 36 percent of our costs are fixed and go towards our professional players," Tew said.
"If that 36 percent is under pressure because the price of our players in the international market continues to escalate, with no real science behind it other than just these very wealthy club owners wanting to have the best team, then that's a pressure point.
"When you've had a display like we saw on Saturday night; you can use Beauden as an example, without singling anyone out in our team. He played one of those games that people will remember for a long time. We've already seen speculation in the media about what he might be worth in the French market.
"Frankly, I had the same conversation with the Prime Minister and minister myself in the grandstand. If our team, and our talent is important to New Zealand, then sitting down with the Government at some point and time about what we might do together is useful.
"In fact, we've already got a number of partnerships with government agencies; we have a high performance relationship with High Performance Sport NZ, a decent chunk of that is government funded.
"We have a number of initiatives under way both in injury prevention but also in the health sphere with ACC.
"We're always with working with MFAT and NZ Trade and Enterprise and tourism on stuff that 'brand New Zealand' benefits from by being associated with our teams in black. There's lots of stuff happening in the government arena so when you get the PM for five minutes you have a chat to her don't you?"
All of which probably begs the question that with so much support from taxpayers already in place for New Zealand Rugby, why should they cough up even more to support already well-paid professional players.
Clearly, the priorities of Tew and Hansen are different to most other New Zealanders - but this is an issue that will divide opinion like few others.
Tew added that Barrett's retention would be a major priority and that work on that was probably already going on behind the scenes. He was also careful to say up-and-comer and Barrett's No10 rival Richie Mo'unga was also highly valued.
"Our guys will be talking to Beauden, well not so much directly to Beauden probably but certainly to his agents on an ongoing basis," he said.
"He's now one of our star players. I don't know this for sure but I'd be surprised if we aren't discussing the detail of his own commercial work alongside our work all the time because players with that profile are much busier as well so we'll be having a yarn to him, just as we'll be having a yarn to Richie."
- By Patrick McKendry