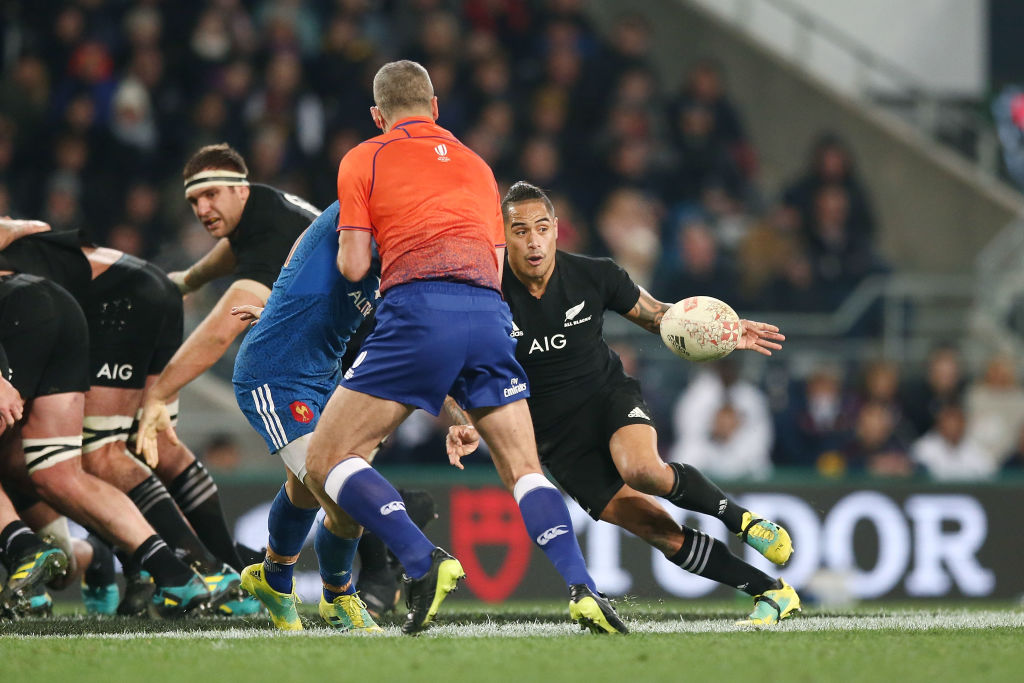 Steve Hansen has described the continued allegations that match officials are helping the All Blacks at the expense of other sides "ridiculous" and has called on World Rugby to take ownership of the decision-making by referees in an increasingly complex game.
A day after the All Blacks' 49-14 victory over France in Dunedin, which gave them the series 3-0, coach Hansen was clearly frustrated as he spoke about the influence that Irish referee John Lacey and his fellow officials had on the match and referees in general.
Australia coach Michael Cheika was also furious about several decisions in his team's 20-16 defeat to Ireland in Sydney last night which cost his team the test series.
Fullback Israel Folau was sinbinned for a mid-air challenge on Peter O'Mahony despite it appearing to be accidental and caused by the actions of lifter CJ Stander, and Hansen – empathising with his Wallabies rival – said it was a time for a more common sense approach.
"I think it's an area of the game that World Rugby need to take some ownership of and lead," Hansen said before admitting he would probably get a "slap on the knuckles" for speaking his mind.
"I keep saying the game is not black and white. It's a fluid game which is going to have grey patches and you can't rule on it as if it is black and white.
"It's about intention and it's pretty obvious when someone intends to hurt someone and it's pretty obvious when they don't. That's my opinion. They [World Rugby] may see it differently. While we're busy trying to eradicate concussions and stuff we've also got to acknowledge that it's a contact sport and there's going to be the odd accident in it."
The French series was marred by several contentious decisions, all of which went against the visitors, the most high-profile created by referee Angus Gardner in Wellington when he followed the law by sending off Benjamin Fall for his collision with Beauden Barrett only to see it overturned a day later.
"Communication is the key to anything in life," Hansen said when asked whether his message would get through to World Rugby. "I think they've set a precedent, haven't they, when Angus did everything by the book with the French red card and then they let him [Fall] off. They've now got to look at that themselves."
Hansen added of referees: "They are doing their very best. I was talking to Gus [Gardner] last night and he is shrugging his shoulders saying 'what can I do?' And I said 'you can't do anything other than what you did'."
Referring to last night's test and the try for Damian McKenzie after referee Lacey appeared to obstruct defender Baptiste Serin, Hansen said: "Everyone's telling us the referee's cheating now because he's helping us score tries. It's just ridiculous. If anyone else had scored that try no-one would have moaned about it at all.
"If you look at it, the French halfback runs into the referee, the referee doesn't run into him. Cheik's not happy with how his game was reffed. It's a difficult game to referee because it's got faster, it's really fluid, and we haven't changed the way we ref."
All Blacks test debutant Shannon Frizell appeared to score a try last night, only for TMO George Ayoub to over-rule Lacey, a case that puzzled Hansen further.
"We're saying there's one guy controlling the game the whole time but he's not because the TMO in our game last night, he had a lot to say," Hansen said. "I heard the referee say 'I saw a clear grounding' but the try's not awarded. So who is controlling the game?"
One answer, said Hansen, was to bring in a "challenge" system whereby coaches had one or two challenges per game to be used when a referee got something obviously wrong. He said he first brought up the idea with World Rugby five years ago, and that other international coaches were also in favour of it, but that it had fallen on deaf ears.
"I would start with tries… I'll probably get a slap on the knuckles for talking too much about it but it has got to the point where we have to do something about because it is affecting the game and it is affecting the people who referee the game."