Ian Foster is the All Blacks' new head coach. New Zealand Rugby confirmed the 54-year-old's appointment, after eight years as assistant under Steve Hansen.
New Zealand Rugby chairman Brent Impey made the announcement in Auckland this afternoon, saying Foster had come through as the preferred candidate following a lengthy and robust interview process.
Foster saw off a strong challenge from Crusaders head coach Scott 'Razor' Robertson (45) and has been given a two-year deal.
"The NZR Board has today ratified Ian Foster as the new head coach of the All Blacks from 2020. He brings world-class international experience to the role, an incredibly strong coaching team, and we think he'll do an outstanding job.," Impey said.
"The interview process was extensive and really difficult, which reflects the very strong applications from both candidates."
Impey said Foster would be joined by four other coaches, to be announced in due course.
"While we can't confirm the full make-up of the coaching team today, we're delighted with the quality they bring − they have a wide range of coaching experiences and are a diverse group of thinkers."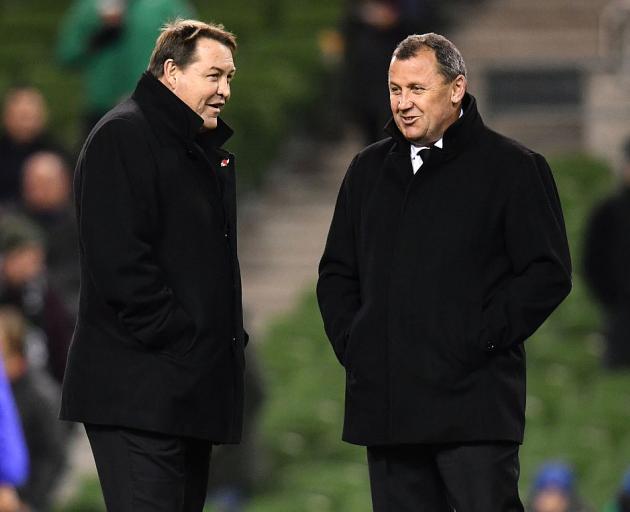 Foster's victory is one for continuity, with the NZ Rugby board and interviewing panel deciding to go with a man who has been involved with the All Blacks since 2012, rather than the fresh outlook Robertson would provide.
Foster said today that he was humbled to be selected as head coach.
"I feel truly privileged and honoured to be given this opportunity and I can't wait to lead the team into the next chapter of what is a remarkable legacy.
"I'm incredibly proud of what we have achieved in the All Blacks over the last eight years and I'm excited and energised by a new coaching team who will join me.
"It's incredibly humbling to be appointed to the job and I have a strong desire to serve the jersey well and represent New Zealand to the best of my ability."
The assumption will be that Foster re-signs after two years to take the All Blacks to the next World Cup in France in 2023.
New Zealand were knocked out of this year's Rugby World Cup by England in the semi-finals, ending their hopes of a third successive title.
Robertson has a perfect three-from-three Super Rugby record since taking over as Crusaders coach in 2017.
In a statement, incoming NZR chief executive Mark Robinson congratulated Foster, saying he had impressed the panel.
"These are exciting times.  Ian has pulled together a very strong team and he is an outstanding person in his own right with a high-quality set of values. He is committed to stamping his own mark on the team and it's clear that he and his coaching team want to bring a new and fresh energy into the All Blacks environment."
Robinson also acknowledged Robertson.
"As someone who knows 'Razor' well as a former teammate, he was a very impressive candidate and these decisions are never easy.  We know Razor is an outstanding coach and I have no doubt he'll have a big future in our game at international level."
The appointment panel for the head coach role included New Zealand Rugby chairman Brent Impey, incoming NZR chief executive Mark Robinson, NZR head of High Performance Mike Anthony, former All Blacks coach Sir Graham Henry and former Silver Ferns coach and High Performance Sport New Zealand director, Waimarama Taumaunu.
Rugby life 
As a first-five, Ian Foster played nearly 150 games for Waikato between 1985 and 1998, as well as 26 games of Super Rugby with the Chiefs, ending his playing career in 1998.
His previous coaching experience includes being an assistant coach and coach of Waikato's national provincial competition side before coaching the Chiefs in Super Rugby for eight years between 2004 and 2011.
During his time in charge of the Chiefs the side made one final in 2009, losing to South African side the Bulls.
Foster had two stints as co-coach of the Junior All Blacks before being appointed as All Blacks assistant coach in 2012 alongside Hansen.
As an All Blacks assistant coach Foster has been involved with the All Blacks' victorious 2015 Rugby World Cup campaign as well as this year's third placing.
- ODT Online and NZ Herald