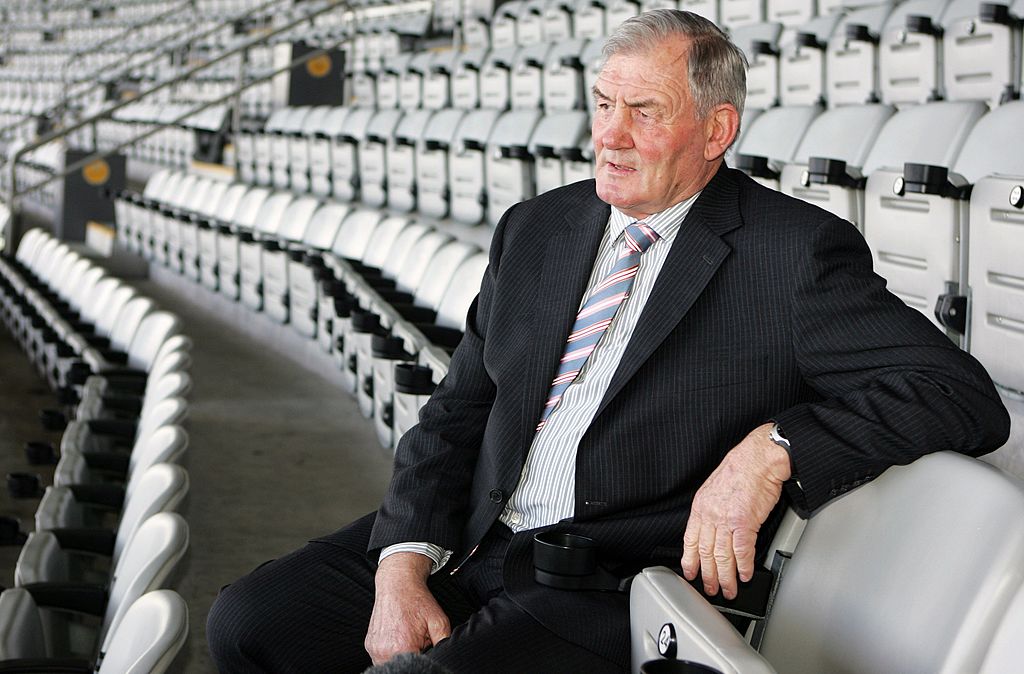 Rugby greats are among the large crowd gathered in Masterton this afternoon to pay tribute to Sir Brian Lochore, who died over the weekend.
Many spoke of the influence of the former All Blacks captain and coach after he died aged 78 on Sunday, with cancer.
The public service at Memorial Park, attended by rugby greats, Sports Minister Grant Robertson and Prime Minister Jacinda Ardern, began at 1pm. The ground has a grandstand named after him and is where he played the most games.
Sir Brian was brought into the service by his grandchildren to the song 'Take Me Home, Country Roads', his coffin featuring the All Blacks emblem. Pallbearers on the way out include former all blacks Ian Kirkpatrick and Wayne Smith.
Vicar Steve Thompson, who is officiating the service asked people to turn off their phones and unsaddle their horses to let them go. He said today's service is what Sir Brian requested - a farmer's funeral, including a few prayers, a hymn and some of his good mates to speak.
"BJ was a much loved husband, father, grandfather, brother, brother-in law, a good mate and a mentor to many who are here today."
Sir Brian's friend, Ian, spoke of his love of rugby and his love for his wife Lady Pam, "Behind every good man there is a good lady, it is certainly true in this case.
"BJ, in your life you have given significant time, energy to all of us New Zealanders ... you were the greatest giver of anyone I've ever known.
"Thank you BJ for being a great New Zealander, and a great mate."
Gilbert Enoka, of the All Black management team spoke of working alongside one of his boyhood heroes: "I had to pinch myself."
Grant Robertson said Sir Brian was an icon of the game, but also gave his time to conservation and the community.
Wairarapa Bush rugby club members said Sir Brian remained involved in the club into his later years, popping into the supporters club now and then for a beer.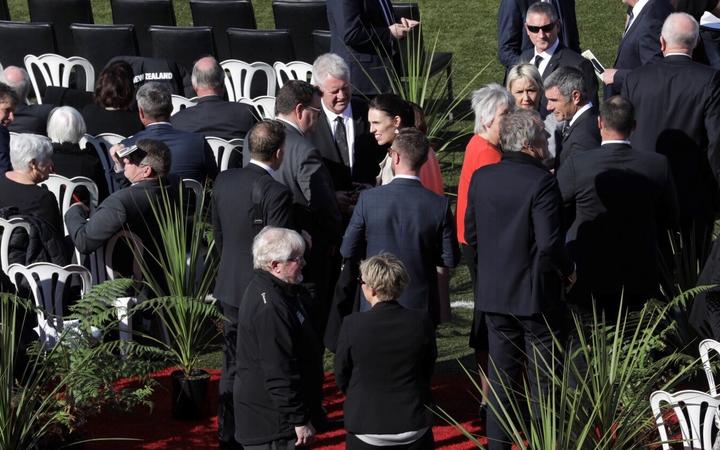 Former Masterton mayor and international rugby referee Bob Francis, a long-time friend, said about 100 former All Blacks were expected to come pay their respects.
"I think it will be somewhere between sort of 4000 to 5000, I mean that'll stretch the capacity of the venue but they'll be able to cope with that number.
"I think the turnout today - and fortunately it's going to be a good day, 16 degrees, so it'll lend itself for people to come in big numbers and really pay their respects to this great man.
"In some ways it's gonna be quite emotional because so many there today had quite a special connection with BJ and his family.
Sir Brian also had a very important influence on grass roots rugby, coaching Wairarapa Bush into the sport's first division for the first time in 1982.
Mr Francis said Sir Brian had a huge connection with local rugby throughout the 1960s, '70s and '80s, and players who had a special connection with him would be at the funeral.
"There'll be large numbers especially those great sides he coached, a lot of those players will be there that had a special connection with him, and then just member so the community because he was just so involved in the wider community in education and farming, so it'll be a wide cross section but a lot of rugby people."
Sir Brian reportedly did not want his funeral to disrupt the All Blacks match on the weekend, something which Mr Francis said was a true mark of the man.