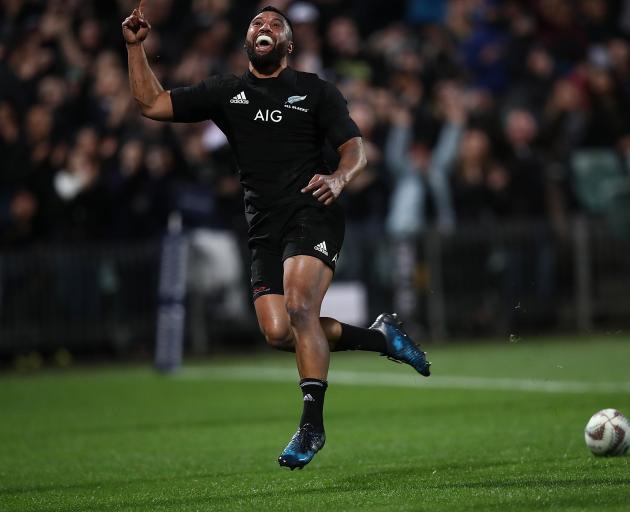 With each passing day, Beauden Barrett is less likely to feature against the Wallabies in the final Bledisloe clash on Saturday.
Barrett took a limited part in yesterday's training at Brisbane Boys' College in Toowong.
As the rest of the All Blacks went about their work, Barrett did his own light stretches at the other end of the boggy field under the watchful gaze of physiotherapist Pete Gallagher and doctor Tony Page.
It was not a good sign for his availability after struggling with headaches and minor dizziness after taking a head knock against the Springboks in Cape Town last week.
Given the All Blacks' track record of being largely cautious when it comes to concussion, Barrett is now highly unlikely to feature at Suncorp Stadium on Saturday.
"He's had a couple of symptoms through training the last few days so he's following normal protocols," All Blacks assistant coach Ian Foster said.
"He'll have a session at the gym today but how he responds will determine what happens tomorrow. If there's any doubt he won't be playing. It's Tuesday - we're doing the best we can. We'll let you know on Thursday."
With Taranaki and Blues loose forward/lock Kane Barrett forced to retire from concussion, younger brother Scott admitted to feeling for Beauden.
"It is a wee bit tough to see Beauden get that knock but fingers crossed he recovers shortly," he said.
"He's doing the right steps and the doc is looking after him. I'm sure the coaches have said there's no rush to come back in until he is right."
Losing Barrett's attacking firepower would, naturally, be a big blow. But while you can't replace the world's best playmaker, the All Blacks will be more than comfortable with Lima Sopoaga slotting in.
For some time they have wanted to give Sopoaga another chance to start; to continue his progression.
Sopoaga was pencilled in for the No 10 jersey in Argentina, but missed out after staying at home for the birth of his first child.
"There might be a bit of natural justice with that," Foster said.
Sopoaga has played 11 tests off the bench since his sole start on debut in South Africa over two years ago, and his confidence and composure has grown in that time.
Against the Pumas in New Plymouth earlier this year he produced an authoritative display with the All Blacks under pressure.
And he did so again to help guide them home in Cape Town last week, nailing three crucial kicks in the one-point victory.
"He had a good 55-minute stint in Cape Town when Beauden came off and he's been pretty influential every time he's played for us this year. Overall he's in a good spot.
"One way or the other he'll be excited about getting on the park."
If Barrett is, indeed, ruled out, Damian McKenzie will probably cover first-five from fullback.
"He's keen to have a crack at 10. That means a lot. He's already a good 10. If he can get his skills and decision-making up to an international level at 10 then he gives us a whole lot of great choices."
It would seem a big ask to throw Canterbury rookie Richie Mo'unga in the deep end, even from the bench after having just two proper training sessions with the team this week.
On Tuesday, Mo'unga largely adopted an observation brief as he attempted to get up to speed with the All Blacks tactics.
His time is sure to come, but this week may be too soon.
At a pinch the All Blacks could switch halfback TJ Perenara to first-five if Sopoaga and McKenzie both fell over.