Ash Dixon began his Highlanders career in a title-winning team.
It would be a fitting way to mark tonight's milestone by being in another.
The hooker will bring up 100 games for the Highlanders as he co-captains the team in the Super Rugby Trans-Tasman final against the Blues at Eden Park.
He came on for Liam Coltman in the final when the Highlanders beat the Hurricanes to claim the 2015 Super Rugby title.
Of tomorrow's starting line-up, only he and follow co-captain Aaron Smith remain from that squad, alongside reserves Liam Coltman, Josh Hohneck and James Lentjes.
It was his first year with the team, having moved south from the Hurricanes.
However, it was those early years that stuck out to him as being influential to where he has got to.
"When we looked at our side we didn't have a lot of All Blacks," Dixon (32) said.
"We just had Aaron [Smith], Lima [Sopoaga], Mala [Malakai Fekitoa] and Bender [Ben Smith] in those days.
"The kind of stuff [former head coach] Jamie Joseph and Browny instilled in us in those early days, I guess at times we thought we were a bit out the gate and a bit serious.
"But it forged me and Nug [Aaron Smith] with our values and what we want to do with this team up till now, that's something I'm really proud of.
"I think after the game when the dust all settles and I have a bit of time to think about it, it'll make a bit more sense."
A tough task awaits the Highlanders, who enter the final after an unbeaten Trans-Tasman campaign.
The Blues have been equally good and pose threats all over the park.
Notably they boast a big, physical and combative forward pack.
In Nepo Laulala and Alex Hodgman they have two All Blacks props, while Karl Tu'inukuafe gives them a third on the bench.
Patrick Tuipulotu is a powerful presence at lock, while their loose forward trio are dynamic ball carriers, even without the injured Tom Robinson.
Dixon will be right among the group of Highlanders trying to quell that threat, although he was well aware that would be a challenge.
"It's a formidable pack isn't it?
"Look at the size of them, [three] All Black props. Patty Tups is a big man and he leads from the front.
"We've definitely got our hands full...
"We've just got to trust our systems and what we've done over the past five or six weeks of building, too.
"We've just got to understand our role and execute our jobs as best we can."
The Highlanders named an unchanged team from the one which beat the Brumbies 33-12 a week ago in Canberra.
Winger Jona Nareki and lock Pari Pari Parkinson had both been named subject to a final fitness test, having been under injury clouds.
Both are understood to have been cleared to play.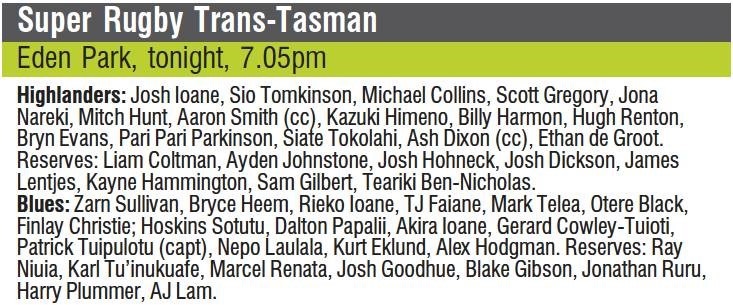 Keys for Highlanders
Jeff Cheshire looks at some of the keys to tonight's clash.
Bully the bullies
The Blues boast a big, confrontational and dynamic forward pack. They will get go-forward in the tight and have plenty of threats in the loose too. Finding a way to at least gain parity with that pack will be huge for the Highlanders. They showed they could do that in their last meeting with the Blues, although doing it at Eden Park may be a lot tougher.
Cut down the space
There is plenty of flair in this Blues side. The likes of Rieko Ioane and Mark Telea are lethal in the open and a missed tackle will often result in a try. Making sure they don't get the ball in space is the easiest way to negate that threat. That might be unrealistic though, so at least limiting the ball they get will be significant.
Wet-weather footy
Rain is in the forecast which will make it a very different game to the last one under the roof in Dunedin. Adapting to the conditions will be crucial. Do not expect to see an expansive game. Kicking will be important, as will forward play. That will make the Blues' forwards even more imposing, although the Highlanders can do well in a scrap too.
Don't get overwhelmed
For many of the Highlanders players, this will be the biggest game of their career to date. Keeping the excitement and nerves in check will be key, as will not being intimidated by a potentially big crowd at Eden Park.
Stay disciplined
Last time the Highlanders were in Auckland they gave away too many penalties to compete with this Blues team. They have improved in that area since then and their defence has turned into a real strength. But particularly in the wet, staying disciplined while still defending well will be important to negate the Blues' scoring opportunities.