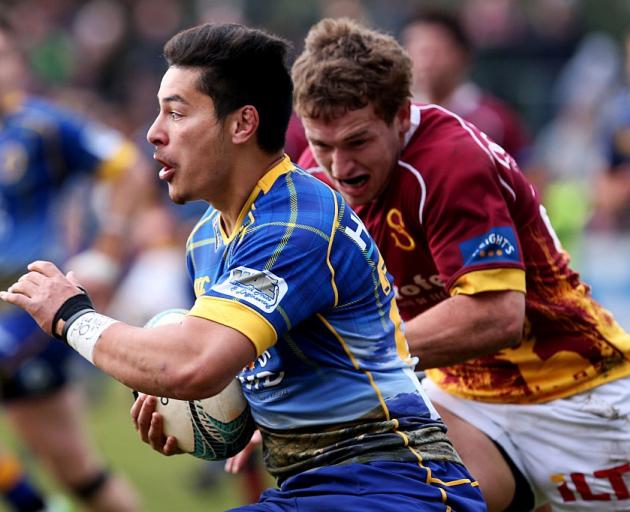 Otago plays Southland in the Mitre 10 Cup this Saturday. At one time, it was a glamour fixture and a trial for spots in the Highlanders.
Now, it is a battle between two sides in the lower echelon of the national domestic competition, involving few Super Rugby players. Rugby writer Steve Hepburn looks at how a changing rugby world is affecting the two teams. 
Does it seem hard to believe that eight short years ago a load of Otago fans jumped on a train and travelled down the line to watch a game between Otago and Southland?
A jam-packed Rugby Park Stadium was on edge as Otago tried to win the coveted Ranfurly Shield off holder Southland.
It did not happen - Southland won 16-12 after prop Jamie Mackintosh crawled his way to the tryline - and the home crowd went away happy.
There were 19 Highlanders on display that day, a dozen of them from Southland.
The tough Southland front row of Mackintosh, Jason Rutledge and Chris King worked hard all day backed up by loose forwards such as John Hardie and Tim Boys.
Otago had a young Ben Smith at centre and Adam Thomson was at No8.
Games between Otago and Southland were always seen as something of a trial for those players trying to get into the Highlanders.
But this Saturday at Rugby Park, there will be a mere handful of Super Rugby players in action and who knows if anyone from the Highlanders coaching staff will be there.
The change to direct-franchise contracting in 2011 means the trial for Super Rugby takes place in every game of the Mitre 10 Cup right across the land.
Coaches want the best talent, no matter where it comes from. If a Hawke's Bay prop is judged as better than an Otago prop then the Magpie man gets the call from the coach.
When direct contracting came in there was the worry this would happen. But those in power said about two-thirds of the squad would still come from the base provinces of Otago and Southland.
That happened for a couple of years but, as the game went more professional and winning became the one and only thing that mattered, provincial loyalty by Super Rugby teams went out the window.
Now we have the case of Otago fullback Michael Collins playing for the Blues and North Harbour winger Tevita Li playing for the Highlanders.
Next year's Highlanders could potentially contain as few as five players from the South.
Super Rugby is now way more dominant than provincial rugby. It is not just big brother - it is running the house and provincial rugby is very much the small cousin.
Southland does not have one Super Rugby player in its team this year. Lima Sopoaga went offshore while Elliot Dixon is playing in Japan.
Japan, which this year is allowing five foreigners per team in its league, is quickly becoming a magnet for Super Rugby players not in the All Black frame.
New Zealand Rugby used to try to limit those chasing the yen but appears to have given up, thinking if the players come back for Super Rugby it is better than losing them for good.
Fair enough, but Dixon eating sushi in Japan is not helping Southland.
On Saturday, we will see a game between two sides which have some promising players and some provincial battlers. It will not be a Highlanders trial as the link involving Otago, Southland and the Highlanders is history.
And we will definitely not see a packed train heading south.